George T. Downing was an abolitionist and activist for African-American civil rights. From the 1830s until the end of slavery, Downing was active in the abolitionist movement and in the Underground Railroad, with his restaurant serving as a rest house. During the American Civil War (1861-1865), Downing helped recruit African American soldiers.
Downing was born in New York on December 30, 1819, to Thomas Downing and Rebecca West; he was one of five children. Downing's father's parents were freed by his former owner, John Downing, who built the Downing Meeting House and made Thomas and Rebecca caretakers.
The first school George attended was held by Charles Smith on Orange Street, and then at Mulberry Street School, also known as African Free School. Downing was known as a child for leading other black students to chase off whites who harassed them. He then attended Hamilton College.
In 1842, Downing started a catering business on Fourth and Broadway, moving in 1845 to 690 Broadway. His work brought him in touch with many of the elites of the city, including the Astors, Kernochans, Leroy's, Schermahorns, and Kennedys. His success allowed him to establish a summer business in Newport, Rhode Island.
In 1850, he moved to Providence, Rhode Island, continuing to work in Newport during the summer. In 1854 he built the Sea Girt Hotel, which was burnt to the ground on December 15, 1860, by an arsonist. He replaced the building with Downing Block, part of which he rented to the Government to serve as a Naval Academy hospital in 1865 he moved to Washington, D.C. with the encouragement of representative Nathan F. Dixon II where he conducted the House Refectory for twelve years.
Downing was an important leader in abolitionism in New York. He was active in the organization of the American Anti-Slavery Society in 1833, and together with Frederick Douglass and Alexander Crumell, Downing was a noted opponent of the American Colonization Society in the 1830s and 1840s.
As the Civil War approached, Downing was central in the movement for African American civil rights. He was also president of the Convention of Colored Citizens in Boston on August 1, 1859. Downing with J. S. Martin helped organize a meeting to celebrate the first anniversary of the death of John Brown in Boston in 1860. The meeting was widely opposed by many in Boston, and the mayor attempted to dissuade Martin and Downing from holding the meeting.
He played a role in Reconstruction politics as well and with the help of Horace Greeley, he led a delegation which met with President Andrew Johnson to push for the support of blacks against violence and repression in the south. Politically, Downing was Republican for much of his life but became more independent during the candidacy for president of James Blaine, who he felt was soft on civil rights. Late in life, he was given commission as captain of a colored company of the Rhode Island militia, which Downing returned, protesting against the designation of the company as colored. The governor then resents the commission without the discriminating phrase. Downing died in Newport, Rhode Island on July 21, 1903.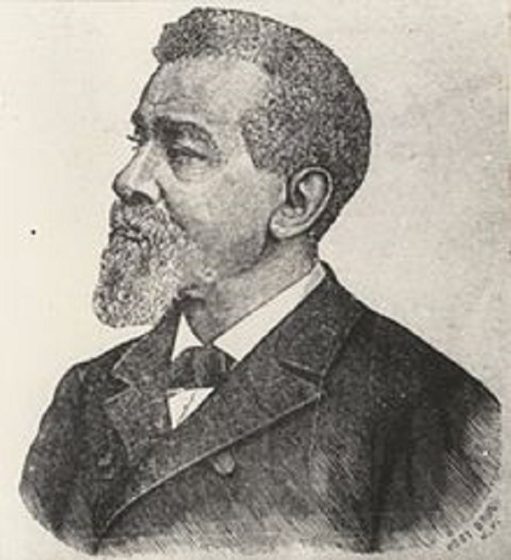 source:
https://en.wikipedia.org/wiki/George_T._Downing