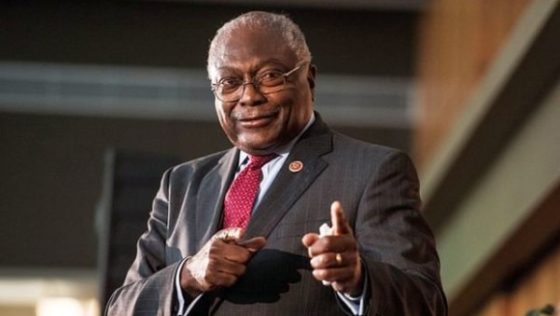 James Enos Clyburn is the U.S. Representative for South Carolina's 6th congressional district, where he has been serving since 1993, and the Assistant Democratic Leader since 2011. He also served as House Majority Whip, from 2007 to 2011. Clyburn's district includes large portions of Columbia and Charleston, as well as several rural areas between them. Clyburn is the current dean of the South Carolina congressional delegation.
Clyburn was born in in Sumter, South Carolina. He is the son of Enos Lloyd Clyburn, a fundamentalist minister, and his wife, Almeta, a beautician. He is a distant relative of George W. Murray, an organizer for the Colored Farmers Alliance (CFA), who was elected as a Republican South Carolina Congressman in the 53rd and 54th U.S. Congresses in the late nineteenth century.
Clyburn attended South Carolina State College, (now South Carolina State University), a historically black college in Orangeburg. He was initiated into the Omega Psi Phi fraternity and graduated with a bachelor's degree in history. After college, he taught high school in Charleston.
He unsuccessfully made a run for the South Carolina General Assembly. In 1971, he relocated to Columbia to join the staff of Govenor John C. West. He was appointed as the first minority advisor to a South Carolina governor. In the aftermath of the Orangeburg massacre of 1968, when protesting students at South Carolina State were killed by police, West appointed Clyburn as the state's human affairs commissioner. He served in this position until 1992, when he stepped down to run for Congress.
In 2009, Clyburn introduced the Access for All Americans Act. The $26 billion sought by this Act would provide funding to quadruple the number of community health centers in the US that provide medical care to uninsured and low-income citizens. Clyburn has consistently voted for increases in minimum wage income and to restrict employer interference with labor union organization.
Clyburn was officially neutral during the primary battle between Hillary Clinton and Barack Obama, however former President Bill Clinton blamed Clyburn for Hillary's 29-point defeat in the South Carolina primary and the two of them had a heated telephone conversation. Clyburn himself had voted for Obama, saying "How could I ever look in the faces of our children and grandchildren had I not voted for Barack Obama?" On February 19, 2016, Clyburn endorsed Hillary Clinton in her 2016 presidential campaign.
source:
http://clyburn.house.gov/