Jane Johnson was a slave who gained freedom on July 18, 1855, along with her two sons while in Philadelphia. She was helped by William Still and Passmore Williamson, abolitionist of the Pennsylvania Anti-Slavery Society and its Vigilance Commission.
Johnson was believed to have been born into slavery under the name Jane Williams in or near Washington, D.C., to John and Jane Williams. There is little else known about her early life. She married and had children. Around 1853, Johnson and her children were sold to John Wheeler, a planter from North Carolina and a politician working in Washington, DC at the time. She worked as a domestic slave in his household. Her oldest son was sold by a previous master and she never expected to see him again.
In 1855, Johnson and her son and master were to travel from Washington, D.C to New York. There they would take a ship to Nicaragua, where her master had been appointed U.S. Minister. The travel included an overnight stop in Philadelphia. Pennsylvania was a free state and did not recognize slave. By the state's law, slaves could choose freedom if brought to the state by their masters. At the end of the 18th century, it had made compromises that enabled Southern members of the national government to keep their slaves in the city for up to six months; past that, they could choose freedom. At that time, the national capital was temporarily in Philadelphia.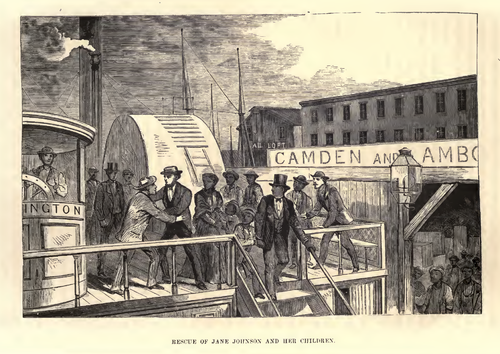 Upon arrival to Philadelphia, Wheeler locked Johnson and her children in the Bloodgood's Hotel, but Johnson got word to a black porter that she wanted to be free. He got word to William Still, chairman of the Vigilance Committee of the Pennsylvania Anti-Slavery Society, who help fugitive slaves. The day that Wheeler planned to board the ferry, William Still and abolitionist Passmore Williamson arrived at the docks. Williamson told Johnson she could choose freedom according to the law of the state. Wheeler argued with the men and promised Johnson freedom to prevent her from leaving. Five black dockworkers restrained him, Williamson explained the law to him while Still rushed Johnson and her children to freedom. No one knew where Still had taken Johnson, not even Williamson, it was a protocol used by the Vigilance Committee.
On August 29, 1855, William Still and the five dockworkers were tried in a local court for riot and assault under charges brought by John Hill Wheeler. Jane Johnson returned from New York, where she had been staying, and created a stir by appearing and testifying in court during the trial. She entered it veiled to be hidden, and was accompanied by several women abolitionists. They had also arranged for her protection by local and state officials, who thought Kane had inappropriately gone against state law regarding slavery by his rulings with Williamson.
Despite being pursued by Federal Marshals, Johnson and her children made it to Boston. Once the family arrived in Boston they were safeguarded by northern abolitionists including Lucretia Mott. Johnson died in 1872 a free woman.
source: