The Birmingham Black Barons were a professional baseball team that was active in the Negro Leagues. From the 1920s to the 1940s, the team was among the most successful baseball teams in the Negro Leagues.
The Black Barons played their home games at Rickwood Field in Birmingham, Alabama. The park was built by A. H. "Rick" Woodward, who rented it out to the Black Barons and to white teams in the area. Seating was segregated, with a designated section for seating black fans when the white teams played.
The team was formed in 1920 by a Birmingham businessman, Frank Perdue. The team was later one of the first eight teams invited to join the Negro National League in 1924.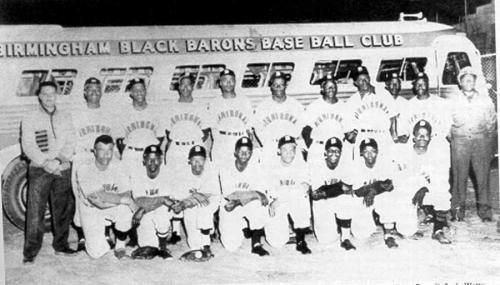 In the 1930s, the team was bought by Tom Hayes in Memphis, Tennessee, which forced the Black Barons to move back to the Negro Southern League.  However, in 1940, the ownership switched again to Abraham Saperstein, who moved the Black Barons back up to the Negro National League.
Under Saperstein's ownership, the team flourished in the Negro National League, winning three Negro National League pennants. The Black Barons' success can be credited given to all-star pitcher Satchel Paige and rookie outfielder, Willie Mays.
The team's greatest success came in the 1940s when they won three Negro National League pennants. However, the Black Barons lost all three Negro League World Series games to the Homestead Grays of Pennsylvania.
In the 1950s, the Negro Leagues began their decline after Jackie Robinson had broken the color barrier in baseball. In 1959, the Black Barons finally won the Negro League Championship, but only five teams remained active in the league.
The Black Barons played their final season in 1960 when the Negro Leagues disbanded. The Birmingham Black Barons carried four players that have been inducted into the Baseball Hall of Fame, including Willie Mays, Satchel Paige, Bill Foster, and Mule Suttles.
sources:
http://www.encyclopediaofalabama.org/article/h-1665
http://www.blackpast.org/aah/birmingham-black-barons