Jean-Baptiste Illinois Jacquet was an American jazz tenor saxophonist. He is best remembered for his solo on "Flying Home," which was critically recognized as the first R&B saxophone solo.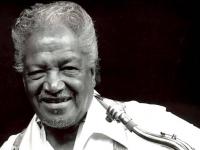 Jacquet was born to a Black Creole mother and father, Marguerite Traham and Gilbert Jacquet, in Louisiana. As an infant, he moved with his family to Houston, Texas, where he was raised. As his father was a part-time bandleader, Jacquet often performed on the alto saxophone in his father's band.
In 1942, at age 19, Jacquet performed a solo on the Hampton Orchestra's recording of "Flying Home," one of the very first times a honking tenor sax was heard on record. The record became a hit. The song immediately became the climax for live shows, and Jacquet became exhausted from having to "bring down the house" every night.
In 1944, Jacquet returned to California and started a small band with his brother Russell and a young Charles Mingus. It was at this time that he appeared in the Academy Award-nominated short film, Jammin' the Blues with Lester Young. He also appeared at the first Jazz at the Philharmonic concert. In 1946, he moved to New York City and joined the Count Basie orchestra, replacing Lester Young.
In 1992, Jacquet and his Big Band were invited to play for President Clinton's Inaugural Ball. The President jammed with the band on "C Jam Blues," playing Jacquet's gold saxophone. President Clinton was a huge fan of Jacquet, and had been listening to the jazz legend perform since he was a child.
Jacquet died in his home in Queens, New York, of a heart attack on July 22, 2004. He was 81 years old.
source:
http://www.swingmusic.net/Illinois_Jacquet_Big_Band_And_Jazz_Legend_Biography.html