Joe Seneca was a film and television actor from the 1970s into the 1990s. He was best known for his many acting roles as well as his music talent as a songwriter and singer.
Seneca was born in Cleveland, Ohio, as Joel McGhee. He and his sister were raised by their aunt. Very little else is known about his early childhood. Before his lengthy acting career, he was part of an R&B group, "The Three Riffs." Seneca was a songwriter and had various hits, such as the song "Talk to Me."
In the 1982 film "The Verdict," Seneca plays the supporting role of Dr. Thompson, a physician in a women's hospital in a small town brought in by attorney Frank Galvin (Paul Newman) to support his belief that the incompetence of two famous doctors left his client alive, but in a coma. He also appeared in "Ma Rainey's Black Bottom" on Broadway and with James Earl Jones in "Of Mice and Men." He also appeared in "Little Foxes" with Elizabeth Taylor.
Seneca made several appearances on shows including The Cosby Show, The Golden Girls, and Spike Lee's School Daze. Seneca appeared in Michael Jackson's "The Way You Make Me Feel" music video in the late 1980s. Seneca died in 1996 at the age of 77.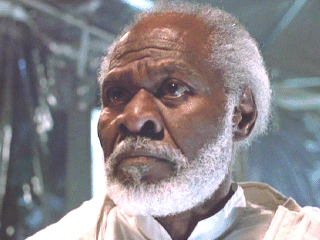 source:
http://www.imdb.com/name/nm0784171/