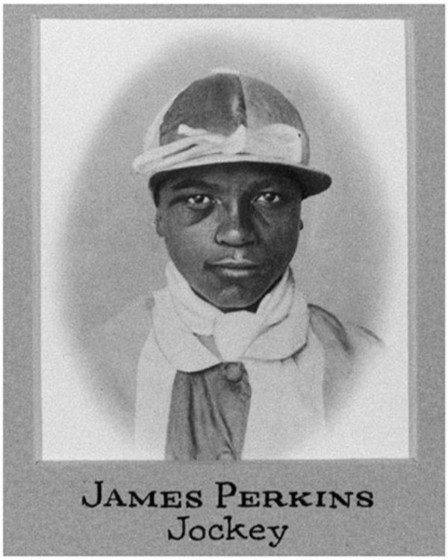 James "Soup" Perkins was a jockey who began racing at age 11 at a northern Kentucky race track situated in Latonia (near Covington and Newport). In 1895, he rode the horse, Halma, to a win in the Kentucky Derby. After the race, the 90-pound African-American was asked his age; he replied, "going on sixteen." At 15, Soup Perkins and Alonzo Clayton share distinction of being the youngest jockeys to win the Kentucky Derby.
In 1880, James Perkins was born in Lexington, Kentucky to parents who were former slaves. His father was John Jacob Perkins, a Standardbred trainer. Perkins got his nickname "Soup" because of his love for the food.
On the opening day of races at the old Kentucky Association track, October 16, 1893, Perkins rode five horses to victory before "a large crowd." His riding contract paid $5,000 annually. After his derby win in 1895, however, things began to unravel for Perkins. In 1897, Newport, Kentucky racing officials disqualified him from taking any mounts.
By 1899, James "Soup" Perkins' racing career was over and was described in the past tense: "at one time one of the most prominent jockeys in the West."  Perkins died on August 10, 1971.
Sources:
http://nkaa.uky.edu/record.php?note_id=669
http://www.findagrave.com/cgi-bin/fg.cgi?page=gr&GRid=84956913