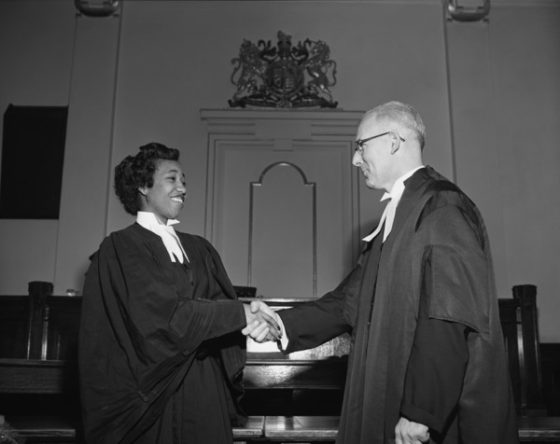 Violet King was the first Black woman admitted to the Alberta Bar, and to practice law in Canada.
King was born October 18, 1929, in Calgary, Alberta. King's parents arrived in Calgary in 1919. Her father, John, worked as a sleeping car porter with the Canadian Pacific Railway and her mother, Stella, worked as a seamstress.
King attended the University of Alberta in 1948. To finance her studies, she taught piano lessons in Edmonton. Out of 142 students, King was one of only three women in the Faculty of Law. She was vice-president of the students' union and representative of the students' union to the National Federation of Canadian University Students.
While at the University of Alberta, King was selected as the class historian and served as the 1952 Alberta representative to the International Student Services Conference held in Hamilton, Ontario.
King obtained a bachelor of arts degree in 1952 and received her LLB degree in 1953. She was the first Black person to graduate from law school in Alberta and the only woman in her graduating class.
After college, King articled in the Calgary firm of Edward J. McCormick, QC, a well-known criminal trial lawyer. She later recalled working on five murder trials during her year articling with McCormick, a substantial caseload. King was called to the Alberta Bar on June 2, 1954, and became the first Black female lawyer to practice law in Canada.
sources:
http://www.thecanadianencyclopedia.ca/en/article/violet-king/