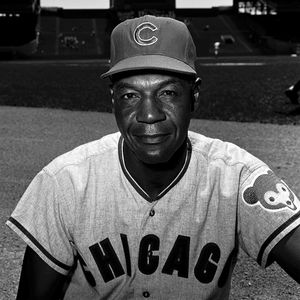 John Jordan "Buck" O'Neil was considered by most people who knew him to be the "Ambassador of Baseball." He was also the first African-American coach in Major League Baseball.
O'Neil was born in Carrabelle, Florida, on November 13, 1911. At the age of 12, he began playing for the semi-professional Sarasota Tigers. Although he traveled throughout Florida with the team, O'Neil had to work as a box boy and shoe shiner to support himself.
After being denied the opportunity to attend high school due to racial segregation, his family sent him to live with other family members in Jacksonville. He was able to complete high school and win a scholarship to Jacksonville's Edward Waters College. He completed two years of college courses before leaving Florida.
O'Neil left Florida in 1934 for several years of semi-professional "barnstorming" experiences by playing interracial exhibition games. In 1938, he was recruited for his skills and talent as first baseman for the Kansas Monarchs, a top Negro League team at the time. He led the Monarchs to their first Negro World Series win, hitting .353.
After a two-year stint in the U.S. Navy during World War II, he returned to the Monarchs; in 1948 he was named player-manager. The Chicago Cubs tapped O'Neil as a scout in 1956, for whom he recruited such talents as Ernie Banks, Lou Brock, Oscar Gamble, and Lee Smith. When O'Neil was offered the position of coach for the Cubs in 1962, he made history as the first African-American to coach in the major leagues.
At the age of 77, O'Neil returned to Kansas City as a scout for the Royals. Recognizing the need to preserve and celebrate the history of the Negro League, O'Neil co-founded the Negro League Baseball Museum in Kansas City, Missouri. He published his autobiography, I Was Right On Time: My Journey from the Negro Leagues to the Majors, in 1996. John "Buck" O'Neil died on October 6, 2006.
sources: