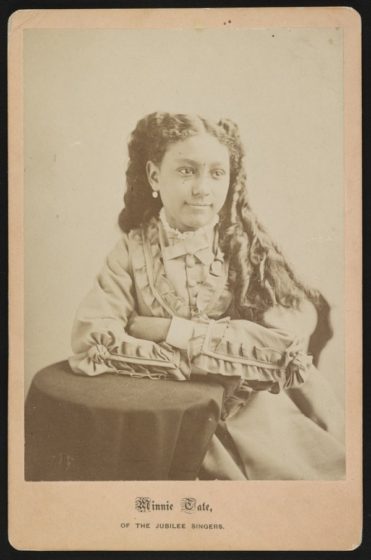 Minnie Tate was one the youngest member of the well-known Fisk University original Jubilee Singers.
Tate was born in Nashville, Tennessee in 1857 of free parents. Her maternal grandmother was a slave in Mississippi, her Master gave her and some of her children, including Minnie's mother their freedom.
After being freed, the family set out on foot carrying as many of their belongings by hand. The family headed toward Ohio but often had to stop for several months to rest and work before continuing their journey. Once the family reached a German settlement in Tennessee, where they were treated so kindly, the family decided to end their journey.
Tate's mother was allowed to attend school with white children and obtained a good education. The family later moved to Nashville, where Minnie was born in 1857.
Tate was taught by her mother who had opened her home to teach other black children. After receiving her primary education, Tate attended Fisk University where she became one of the original Jubilee Singers and the youngest of the company which made the first visit to Great Britain.
On return to America, she found it necessary by the stress and exhaustion of her voice, to give up singing. Very little is known about Tate's life after leaving the Jubilee Singers.
sources:
https://www.loc.gov/item/2015650288/