John H. Johnson, who once used his mother's furniture as security for a $500 loan, eventually went on to become one of the wealthiest black men in the United States. Johnson's major business empire included Ebony and Jet Magazines. He also had holdings cosmetics, television and radio. In 1982, he was the first African-American to appear on Forbes Magazine's list of the 400 wealthiest Americans. Johnson's empire was so enormous that the media called him a rival with Playboy's Hugh Hefner.
Johnson was the grandson of slaves. He was born in Arkansas City, Ark., on Jan. 19, 1918. His father was killed in a saw mill accident when Johnson was just a small boy. His mother later remarried another mill worker. Johnson attended segregated schools, but there was no high school for the black children. Rather than dropping out of school he repeated the eighth grade. In 1933, his family moved to Chicago. Johnson's family struggled for money, and he later got a part-time job at the National Youth Administration. He also was attending an all-black high school and was the president of his class and editor of the school paper. He graduated in 1936, and spoke at a dinner held by the Urban League. Attendants were so impressed that Johnson was offered a job and a scholarship to attend the University of Chicago.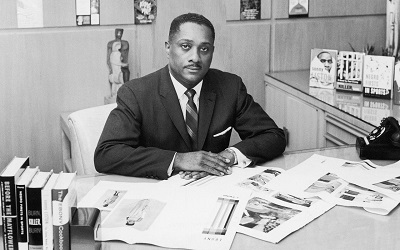 Johnson later left the University of Chicago and work as an internal editor of the magazine for the Supreme Liberty Life Insurance Company's president, Harry Pace. The insurance company mainly focused on the needs of the black people, and Johnson spent his time digesting articles on blacks from other publications. He later married in 1941, and had 2 children.  Johnson was still working at Supreme Life Insurance when he asked his mother to help him borrow $500 dollars. He asked 20,000 of the company's policyholders for $2 to subscribe to what was still a nonexistent magazine. About 3,000 people did so. That June, he published Negro Digest, modeled on Reader's Digest. In order to get the magazine on newsstands, he had 20 of his friends ask for it at different stands. The newsstands then called the distributors and requested the magazine. Johnson later wanted to produce a magazine with better covers, and show the world the success, parties, beauty, and the normal life of African Americans. Ebony magazine was soon born. Years later, he started Jet in 1951 to highlight news of African-Americans in the social limelight, politics, entertainment, business and sports.
Johnson was noted saying "I want to be king of the "black hill", not the mixed hill." He believed in blacks sitting at the top, not settling for second best.
source:
http://www.notablebiographies.com/newsmakers2/2006-Ei-La/Johnson-John-H.html