BY WALTER OPINDE
Lizabeth Gwendolyn Brooks, best known as the first African-American to win the Pulitzer Prize for her 1950 book Annie Allen, was a prominent postwar poetess in the U.S. Brooks was an American poetess, teacher, and author whose literary works focused on personal struggles and celebrations of the ordinary people of the Black community. She won several awards for her influence and poetic works including the Pulitzer Prize for Poetry on 1st May, 1950, for her famous book "Annie Allen." Further, throughout her professional career, Brooks received several other honorary awards and was later appointed the Illinois Poet Laureate in 1968, a position she held until she met her death on 3rd December, 2000.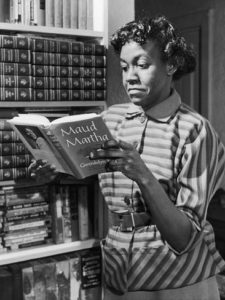 Elizabeth Brooks Gwendolyn was born on 7th June, 1917, in Topeka, Kansas. When she was just six weeks old, Brooks' father and the entire family relocated to Chicago following the American Great Migration. To her family members and childhood friend, she was known as "Gwendie." Gwendolyn attended three high schools namely: the integrated Englewood High School; the all-black Wendell Phillips Academy High School; and the prestigious, integrated Hyde Park High School. During this youthful age, the racial discrimination that she went through at some of the institutions would gradually nurture her understanding of the social dynamics across the U.S. and subsequently influence her writing works. Brooks graduated from Wilson Junior College in 1936 when she had already started her writing profession and had published a couple of books.
At her early teenage age, Gwendolyn had begun writing, published her first poem in the children's magazine at age thirteen years. Three years later, by the age of sixteen years, she had already published more than 73 poems. Gwendolyn Brooks, thereafter, began submitting her poetry works to a leading African-American newspaper- the "Chicago Defender." Most of her works included sonnets, free verses, ballads, and sonnets, drawing from the musical rhythms and reflecting the contents of the inner-city, Chicago.
While working as an office secretary to support her daily living, Brooks would develop her poems, which would be published later. She participated in poetry workshops, such as that which was organized by Inez Stark Cunningham- a wealthy woman with a rich literary background. While Inez Stark Cunningham was white, all of the participants in her workshop were mostly those from the Black community. During this period, Gwendolyn made significant improvements in her poetry work, achieving the official public recognition. By 1943, Brooks works earned her an award from the Midwestern Writers' Conference. In 1945, Gwendolyn published her first poetry book, "A Street in Bronzeville," which instantly became a success, thereby earning her the "Guggenheim Fellowship" award, among other honors. Brooks' second book, Annie Allen, was published in 1949, which earned her the Pulitzer Prize in poetry, making her the first Black American and Black woman to win the coveted Pulitzer.
By the dawn of the 1960s, Gwendolyn embarked on her teaching career, serving as an instructor of creative writing at the Columbia College in Chicago. Later, she taught in universities such as Chicago State University, the University of Wisconsin, Columbia University, and Northeastern Illinois University. Besides, Brooks continued with her writing work, publishing another poem "In the Mecca" in 1968. This poem was nominated for the National Book Award in poetry.
At the age of 83, while at her home in Chicago, Illinois, Gwendolyn Elizabeth Brooks met her death on 3rd December, 2000, which was caused by cancer. Her body was buried in Blue Island, Illinois, at the Lincoln Cemetery.
Read more of the story via: https://www.poetryfoundation.org/poems-and-poets/poets/detail/gwendolyn-brooks
Sources
Jackson, Angela (2017). A Surprised Queenhood in the New Black Sun: The Life & Legacy of Gwendolyn Brooks. Beacon Press.