John Hope Franklin is recognized as one of the most renowned historians of his time. Franklin is also an author of the book, From Slavery to Freedom, which was originally published in 1947. He was a man of many first incluing the first African-American leader of the American Historical Association.
Franklin was born in the All-Black town of Rentiesville, Oklahoma, on January 2, 1915. He was the grandson of a Chickasaw freedman. Franklin's father, Buck Colburt Franklin, was an early civil rights lawyer in Oklahoma and represented many blacks affected by the Tulsa Race Riot of 1921.
He graduated from Booker T. Washington High School in Tulsa and went on to attend Harvard University where he graduated in 1941.  He went on to hold faculty positions at a number of institutions, including Harvard, Howard University, New York University, Cambridge University, and Duke University Law School.
In 1947, with Alfred A. Knopf's publishing house, Franklin released From Slavery to Freedom: A History of African-Americans, a seminal text on black history that would become globally distributed, selling millions of copies. It is credited as paving the way for the creation of African-American studies as a discipline.
Among an array of firsts, he became chair of Brooklyn College's history department in 1956, thus making him the first black scholar to be appointed department head at a mostly white college. He was also the first African-American leader of the American Historical Association.
As a civil rights activist, he worked with landmark cases like Lyman Johnson v. The University of Kentucky and Brown v. The Board of Education, and participated in the 1965 voting rights march that started in Selma, Alabama. In 1995, he received the Presidential Medal of Freedom for his lifelong fight for civil rights. John Hope Franklin died in Durham, North Carolina, on March 25, 2009, at the age of 94.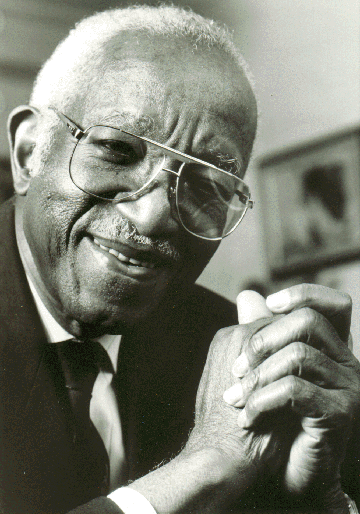 source:
https://www.biography.com/people/john-hope-franklin-9301314?_escaped_fragment_=