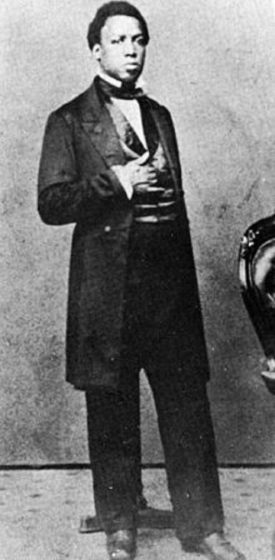 Jonathan Clarkson Gibbs, II was a Presbyterian minister. He served as the first black Secretary of State and Superintendent of Public Instruction of Florida, and along with Josiah Thomas Walls, US Congressman from Florida, was among the most powerful black officeholders in the state during Reconstruction.
Gibbs was born a freeman in Pennsylvania in 1827, Jonathan Gibbs was the son of Maria Jackson and the Methodist minister, Jonathan Gibbs. Though not much is known about the details of his early life, Jonathan Clarkson Gibbs grew up in a Philadelphia where anti-black riots and violence were quite common. Following the death of his father in April 1831, Gibbs and his brother left the Free School to aid their ailing mother and earn a living. The young Gibbs apprenticed to a carpenter. Both brothers eventually converted to Presbyterianism. Gibbs impressed the Presbyterian assembly such that the Assembly provided financial backing for him to attend Kimball Union Academy in Meriden, New Hampshire. He later became one of only two African Americans accepted at Dartmouth College in New Hampshire.
While attending Dartmouth, Gibbs was influenced by three professors who would affect his thinking as a missionary, educator and politician. He was a member of the abolitionist movement while a college student, and participated in several conventions, appearing by name in The Liberator.
He was the third African American to graduate from Dartmouth College. Following John Brown Russwurm, Gibbs became the second black man in the nation to deliver a commencement address at a college.
Following President Abraham Lincoln's announcement of the Emancipation Proclamation, Gibbs delivered a sermon titled "Freedom's Joyful Day," emphasizing that whites should crush their prejudices and that blacks should be allowed to fight in the Civil War. Gibbs noted that, "We, the colored men of the North, put the laboring oar in your hand; it is for white men to show that they are equal to the demands of these times, by putting away their stupid prejudices."
Gibbs' efforts in the movement to abolish slavery helped both free blacks and their enslaved brethren. As the Civil War drew to a close, Gibbs left Philadelphia, and journeyed to the South to help rebuild the former Confederate states and to educate the ex-slaves and poor whites who were left destitute in the wake of the bloody ravages of war.
Gibbs moved to Florida in 1867 where he started a private school in Jacksonville. He rapidly shifted from missionary work to political involvement in Reconstruction Florida. Religion and politics went hand-in-hand for black officeholders in this period. He was appointed Florida's Secretary of State, serving from 1868 to 1872, by Wisconsin-born Republican governor, Harrison Reed. Gibbs had considerable power and responsibility during his four years as Secretary of State.
source:
https://www.floridamemory.com/photographiccollection/photo_exhibits/black_history/
http://www.blackpast.org/aah/gibbs-jonathan-1827-1874
https://en.wikipedia.org/wiki/Jonathan_Clarkson_Gibbs