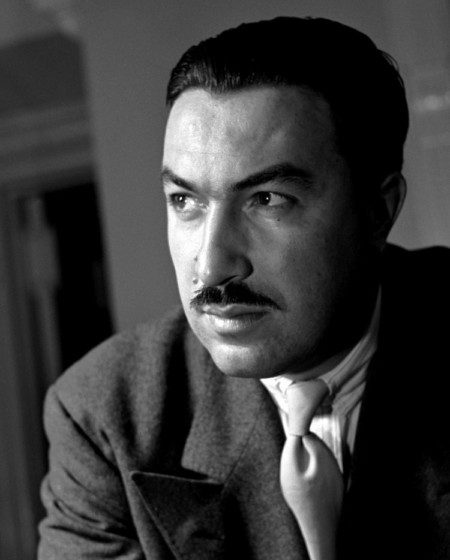 Adam Clayton Powell Jr. was a Baptist pastor and an American politician, who represented Harlem, New York City, in the United States House of Representatives. He was the first person of African-American elected from New York to Congress.
Powell was born in 1908 in New Haven, Connecticut, the second child and only son of Adam Clayton Powell Sr. and Mattie Buster Shaffer, both born poor in Virginia and West Virginia, respectively. His parents were of mixed race African and European ancestry. His paternal grandmother's ancestors were born free persons of color before the Civil War.
After completing his primary education,,  Powell attended City College before transferring to Colgate University in Hamilton, New York, where he graduated in 1930. Two years later (1932), he earned a master's degree in religious education from Columbia University, and followed by furthering his divinity studies at Shaw University.
He later, succeeded his father, Adam Clayton Powell Sr., to become minister of Abyssinian Baptist Church, and worked as a community activist for Harlem. By the mid-1940s, Powell was elected to the House of Representatives in the mid-1940s, and later became a champion civil rights reformer.
Powell won a seat to the New York City Council in 1941, becoming the first black person elected to the position. Years later, he made a successful run for Congress; Powell took a Democratic seat in the House of Representatives in 1945, becoming the first black hailing from New York to be elected to the House. However, his position did not come without controversy, he angered southern segregationists, including some who were within his own party. He integrated congressional restaurants, recreational facilities, and press stations. went against party lines to support Republican Dwight D. Eisenhower's presidential campaign, though he later critiqued Eisenhower for his conservatism on civil rights issues.
Powell's personal life and professional tactics were constantly scrutinized. He stirred more controversy when he was indicted for tax evasion in 1958 (the subsequent trial ended in a hung jury), he was accused of defraying traveling costs as a public expense, and developed a spotty attendance record in Congress. He was later sued by Esther James after making a slanderous televised statement about her in relation to municipal corruption in 1960.  In 1967, the House of Representatives decided to vote Powell out of office, though the Supreme Court ruled two years later that Congress had no jurisdiction to remove him from his seat. Adam Clayton Powell Jr. died from cancer on April 4, 1972.
sources:
https://www.britannica.com/biography/Adam-Clayton-Powell-Jr
http://www.biography.com/people/adam-clayton-powell-jr-9445619
http://bioguide.congress.gov/scripts/biodisplay.pl?index=P000477