David Bing was a skilled point guard in the National Basketball Association (NBA). He played for the Detroit Pistons, Washington Bullets, and Boston Celtics. He is best remembered for his time with the Pistons from 1966 to 1977. While playing with the Pistons, he claimed the rookie of the year honor in 1966 and led the league in scoring the following year with an average of 27.1 points per game.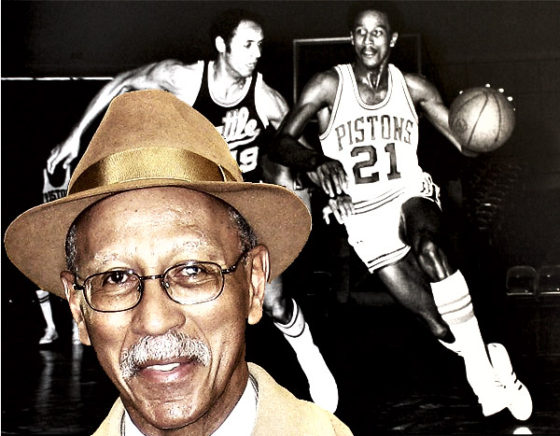 Bing was born in Washington, D.C., on November 24, 1943, to mother Juanita, a housekeeper, and father Hasker, a bricklayer and deacon for the Baptist Church. Star of Spingarn High School's basketball team, Bing was a three-letter winner. Following his senior season, he was also named a Parade Magazine All-American.
He later attended Syracuse University. At the time, his hope was to attend a school that did not have any basketball stars, as he wanted to stand out on the court. Apparently his strategy worked. Bing became the first consensus All-American from Syracuse in 39 years. He was also named Syracuse Athlete of the Year.
After his college career, Bing was selected as the first round pick of the Detroit pistons and would go on to play twelve seasons in the National Basketball Association, earning a trip to the NBA All-Star game seven times.  Following his NBA career, Bing was inducted into the Hall of Fame, as well as named to the 1996 list of the 50 greatest NBA players of all time.
His retirement from basketball led him to pursue a career in business. Bing found much success as a  business man.  He developed his business talent working in the off-season in the NBA for the National Bank of Detroit, where he rose from teller to branch manager. He also worked at Paragon Steel, the company of Pistons' owner, Bill Davidson. 
In 1980, starting with personal savings of $80,000 and a $250,000 loan, he formed Bing Steel, the first of a series of small companies collectively called the Bing Group, which provided services for Detroit-area automakers. In 1995, he created Bing Manufacturing, which supplied metal stampings and parts for the major automobile companies.  The Bing Group is one of the largest African American owned manufacturing firms in the nation.
Bing entered Detroit politics as a Democrat in 2008, announcing his intentions to run for mayor in the city's non-partisan primary to finish the term of Kwame Kilpatrick, who had resigned amid a corruption scandal. After winning the primary, Bing then defeated Interim Mayor Kenneth Cockrel, Jr. and was sworn in as mayor in May 2009. He announced on May 14, 2013, that he did not run for re-election.
sources:
http://www.nba.com/history/players/bing_summary.html
https://en.wikipedia.org/wiki/Dave_Bing