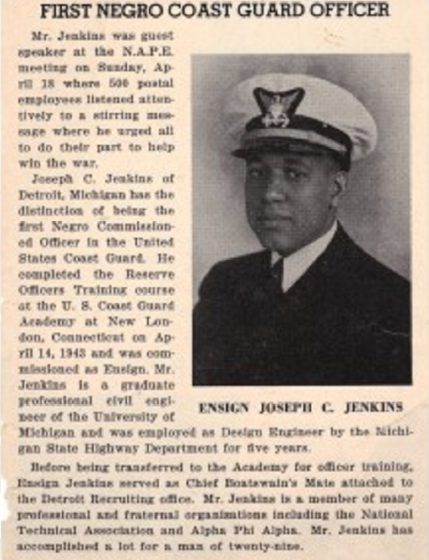 Distinction as the Coast Guard's first recognized African-American officer belongs to Joseph Charles Jenkins. Born in 1914, he attended the University of Michigan, where he was the only African-American in the engineering department at the time. While there, Jenkins was also a member of Alpha Phi Alpha, the nation's first African-American Greek-letter fraternity.
After graduation, Jenkins became a highway design engineer for the state of Michigan, overseeing the construction of many Michigan highways. While working, Jenkins earned a graduate business administration degree from Wayne State University.
In June 1942, Jenkins began his service as a BM1; however, by April 14, 1943, he had completed Reserve Officer Training at the Academy and received an officer's commission. By August of 1943, Jenkins was one of two African-American officers in the Coast Guard.
Joseph Jenkins pioneered the way for minorities not only as the service's first recognized African-American officer, but also as the ranking African-American officer on the historic U.S.S. Sea Cloud, the nation's first integrated sea service vessel. He also served as ranking African-American officer on board the service's second integrated vessel, U.S.S. Hoquiam. Jenkins completed his active duty in November 1945 and resigned his commission in the Reserves in 1947.
Jenkins later continued his career for the Michigan State Highway Department and was the assistant director of the Metropolitan Detroit area. He died in 1959.
source:
http://coastguard.dodlive.mil/tag/joseph-c-jenkins/