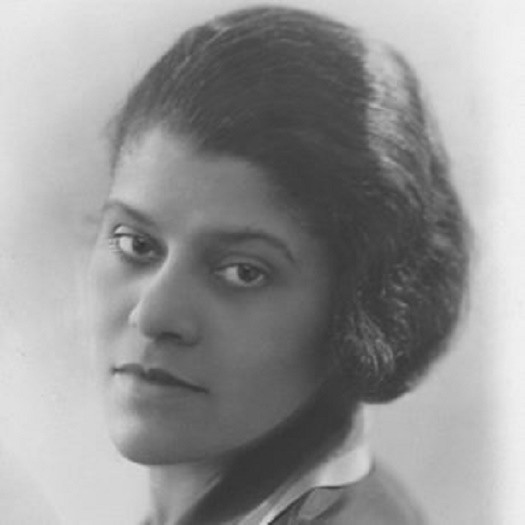 Eslanda ("Essie") Cardozo Goode Robeson was an anthropologist, author, actor and civil rights activist. She was the wife and business manager of singer and actor Paul Robeson.
Robeson was born in Washington, DC on December 15, 1895, mostly descended from Black slaves. Her paternal great-grandfather was a Sephardic Jew whose family was expelled from Spain in the 17th century. Her grandfather was Francis Lewis Cardozo, the first Black treasurer of South Carolina. Her father, John Goode, was a law clerk in the War Department who later finished his law degree at Howard University.
Robeson attended the University of Illinois and later graduated from Columbia University in New York with a B. S. degree in chemistry. She first became politically active during her years at Columbia, when her own interest in racial equality was reinforced by young intellectuals in New York. When then she started to work at New York-Presbyterian Hospital, she soon became the head histological chemist of Surgical Pathology, the first Black to hold such a position.
In 1920, Paul Robeson and Eslanda attended summer school at Columbia. One year later they married. Eslanda gave up her intentions to study medicine and supported her husband as his business manager. Paul credited her as the catalyst for his acting career, saying "Even then, I never meant to [become an actor]. I just said yes to get her to quit pestering me." Eslanda worked at the hospital until 1925, when the career of her husband took more and more of her time.
The marriage became strained and Robeson suffered under the affairs of her husband that reportedly started with a relationship with Freda Diamond in 1925. Other affairs affecting their relationship were those with actresses Fredi Washington and Peggy Ashcroft Robeson's long-term liaison with Yolanda Jackson almost broke up the marriage. Yet despite all the setbacks and separations, the marriage endured, as each of the two had needs that only the other could fill.
In the late 1920s, Robeson wrote her first book, a first biography of her husband: Paul Robeson, Negro. It was published by Harper in 1930. Robeson himself, who had provided no direct input, was "deeply angered" by it. He resented that she put words into his mouth and depicted him as lazy, immature, and needy of her guidance.
In 1931, the couple were living in London and became more estranged. Robeson resumed her own career, taking acting parts in three movies over the next couple of years. She enrolled at the London School of Economics for anthropology and graduated in 1937. Robeson earned her Ph.D. in anthropology at the Hartford Seminary in 1946.
In the early 1940s, Robeson joined other influential black people to found the Council on African Affairs. As a member, she spoke often and articulately in critique of western colonial powers for subjugating people of color for political and economic gain.
source:
https://upclosed.com/people/eslanda-goode-robeson/