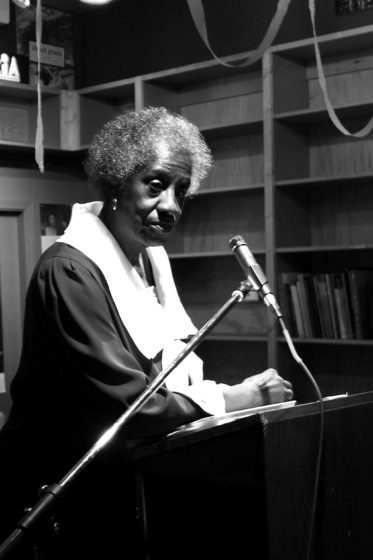 Unita Blackwell is a civil rights activist and the first black woman to be elected mayor in the state of Mississippi.
Blackwell was born on March 18, 1933, in Lula, Mississippi to sharecroppers Virda Mae and Willie Brown. As a young child, she was given the name U.Z., by her uncle, which she kept until she was in the sixth grade.
Blackwell and her parents lived in Lula until 1936, when she was three years old. Blackwell's father left the plantation on which he worked, and fled to Memphis, Tennessee, fearing for his life after he confronted his boss about speaking to his wife. Soon afterwards, Blackwell and her mother left the plantation to live with him. Blackwell's family traveled frequently in search of work.
On June 20, 1938, Blackwell's parents separated due to religious differences. Blackwell and her mother went to West Helena, Arkansas, to live with Blackwell's great aunt in order to have a better chance to receive a quality education. A quality education in Mississippi was not an option for Blackwell because the schools were centered on the cultivation of crops and the plantation system. She kept a close relationship with her father and often traveled to visit during the summer months.
Blackwell first got involved in the Civil Rights Movement in June 1964, when two activists from the Student Nonviolent Coordinating Committee came to Mayersville and held meetings in her church concerning African Americans' right to vote. The following week, she and seven others went to the courthouse to take a voter registration test in order to be able to vote. While they were outside the courthouse waiting to take the test, a group of white farmers from the area heard what was happening and tried to scare them off. After her employer found out she and her husband, Jeremiah, were a part of the group trying to vote, they lost their jobs.
After meeting Fannie Lou Hamer in the summer of 1964 and hearing her experiences in the civil rights movement, Blackwell decided to join the SNCC. As a project director for the SNCC, she organized voter registration drives across Mississippi. Later that year, she became a member on the executive committee of the Mississippi Freedom Democratic Party.
In the late 1960s, Blackwell worked as a community development specialist with the National Council of Negro Women. In the 1970s, through the National Council of Negro Women, she worked on a development program for low-income housing and encouraged people across the country "to build their own homes." Blackwell was jailed over 70 times for her participation in the civil rights protest and other actions.
Blackwell went on to become Mayersville's first African American mayor in 1976, a position she held for 25 years. In 1992, she was a recipient of the prestigious MacArthur Foundation's "genius" grant.
As part of her community development efforts, she helped found Mississippi Action for Community Education (MACE), a community-development organization in Greenville, Mississippi. From 1990 to 1992, she was president of the National Conference of Black Mayors. Blackwell later co-founded the Black Women Mayors' Conference as a corollary to the National Conference of Black Mayors and served as its first president.
source:
http://www.blackpast.org/aah/blackwell-unita-1933