Singer Joshua Daniel White was known for having quite a repertoire. He was a guitarist, songwriter, actor, singer, and civil rights activist. He sometimes recorded under the names "Pinewood Tom" and "Tippy Barton in the 1930s.
White was born in 1914 in Greenville, South Carolina, and was one of the four children to Daisy Elizabeth and Reverend Dennis White. At the age of five, his mother introduced him to music and he began singing in his local church's choir. When White was just seven years old, his father was sent away to a mental institution where he died nine years later.
Two months after his father had been taken away from the family, White left home with a blind, black street singer named Blind Man Arnold. White had agreed to lead Arnold across the South to collect coins after performances, and Arnold would then send White's mother two dollars a week. However, Arnold soon found out he could make more money if he rented White's services to other blind street performers. He kept White in ragged clothes until he was a young teenager. White was made to sleep in cotton fields and horse stables and usually on an empty stomach.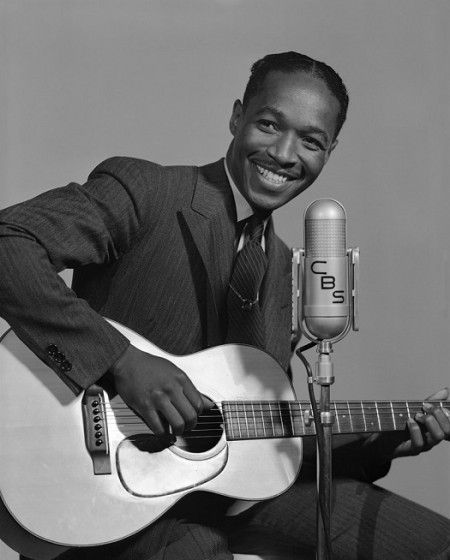 White's skills as a guitarist were recognized in 1927 while he was guiding Blind Joe Taggart. He backed up many artists for recordings before recording his first popular Paramount recording as the lead vocalist and lead guitarist on "Scandalous and a Shame," and billed as "Blind Joe Taggart & Joshua White" while becoming the youngest artist of the "race records" era. White eventually returned to Greenville to take care of his mother and younger siblings.
In 1930, he signed on with New York's ARC Records for 100 dollars. He moved to New York City, billed as Joshua White: The Singing Christian. During this period, White was seen as an influence on hundreds of artists of diverse musical styles. As an actor, White performed several times on Broadway in the late 1940s. 
In 1950, Theodore Kirkpatrick, a former FBI agent and Vincent Hartnett, a right-wing television producer, published Red Channels, a pamphlet listing the names of over 150 writers, directors, and performers who they claimed had been members of subversive organizations before World War II, but had yet to be blacklisted. White was named in Red Channels.
This publication became a problem as copies were sent to those involved in employing people in the entertainment industry. Everyone named in the pamphlet were blacklisted until they appeared in front of the House of Un-American Activities Committee (HUAC) and convinced its members they had completely renounced their radical past. White died in 1969 in New York.
source:
http://www.esperstamps.org/aa47.htm