BY WALTER OPINDE
Today, 2nd June, we join Dr. Cornel Ronald West in celebrating his 64th birthday. Dr. West was born on 2nd June, 1953, in Tulsa, Oklahoma. He grew up in Sacramento, California, where he graduated from J. F. Kennedy High School. His mother- Irene, was a teacher and principal, and his father, Clifton L. West Jr., was a contractor for the Defense Department. As a youth, Cornel West marched together with civil rights demonstrators and further organized protests that demanded the black studies and courses at his high school. He was the students' class president. Cornel West graduated Magna Cum Laude from Harvard after 3 years; thereby obtaining his M. A. and PhD in Philosophy at Princeton. As later revealed in one of his authored works, during his youthful age, he admired "the sincere black militancy of Malcolm X, the defiant rage of the Black Panther Party. He also admired the livid black theology of James Cone.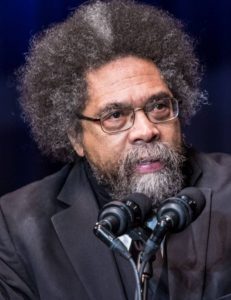 Cornel is an African-American philosopher, author, social critic, public intellectual, political activist, and a prominent member of the Democratic Socialists of America. He is an outspoken public icon in the U.S. leftist politics. Mr. Cornel is currently a prominent and provocative democratic intellectual. As such, Dr. West has been critical of many center-left figures, including the former President Barack Obama and the former Secretary of State, alongside the 2016 Democratic Presidential nominee Hillary Clinton. He currently holds the professorial titles from Union Theological Seminary, Harvard University, Yale University, University of Paris, and Princeton University which have been achieved throughout his career journey. Dr. Cornel is also a frequent commentator on political and social issues via several media outlets.
Dr. West is a Professor of Philosophy and Christian Practice at Union Theological Seminary and also a Professor at Princeton University. Furthermore, he has also taught at Yale, Harvard, and the University of Paris. He has authored more than 20 books and edited over 13 books. Even though Dr. Cornel is best known for his groundbreaking classics and critiques on Racial and Democracy Matters, as well as for his memoir, some of his most recent authored works have been received with critical acclamations. These include works such as Brother West: Living and Loving Out Loud, Black Prophetic Fire, and the Radical King.
Dr. West is also a frequent guest on the Bill Maher Show, CNN, Colbert Report, Democracy Now, and C-Span. He made his film debut in the Matrix and was the commentator (with Wilbur Ken) on the official trilogy released in the year 2004. Moreover, West has appeared in more than 25 films and documentaries including the Stand, Call & Response, Examined Life, Sidewalk, and The Matrix Revolutions and the Matrix Reloaded.
Since 2010, through to 2013, Dr. Cornel West co-hosted a radio program, Smiley and West, with Smiley Tavis. West has also made many spoken word and hip hop albums; and due to his work, he has been named MTV's "Artist of the Week." He has also been portrayed on Saturday Night Live by Kenan Thompson. As the son of a Baptist minister, Cornel's works (both written and spoken) focuses on the role of gender, class, and race in the U.S. society. He also addresses the means by which people act and react to their "radical conditions." staging himself as a radical democrat and socialist, Cornel draws intellectual contributions from manifold traditions, including the Black Church, Christianity, Marxism, transcendentalism, and neo-pragmatism. Among his several authored books, the most ones include the Race Matters of (1994) and Democracy Matters of (2004).
Read more about Dr. Cornel West via: http://www.cornelwest.com/bio.html#.WTF6LeuGO00