The career of Augusta Savage was fostered by the climate of the Harlem Renaissance. During the 1930s, she was well known in Harlem as a sculptor, art teacher, and community art program director. Born Augusta Christine Fells in Green Cove Springs, Florida, on February 29, 1892, she was the seventh of fourteen children of Cornelia and Edward Fells. Her father was a poor Methodist minister who strongly opposed his daughter's early interest in art. My father licked me four or five times a week," Savage once recalled, "and almost whipped all the art out of me."
Lack of encouragement from her family and the scarcity of local clay meant that Savage did not sculpt for almost four years. In 1919 a local potter gave her some clay from which she modeled a group of figures that she entered in the West Palm Beach County Fair. The figures were awarded a special prize and a ribbon of honor. Encouraged by her success, Savage moved to Jacksonville, Florida, where she hoped to support herself by sculpting portrait busts of prominent blacks in the community. When that patronage did not materialize, Savage left her daughter in the care of her parents and moved to New York City.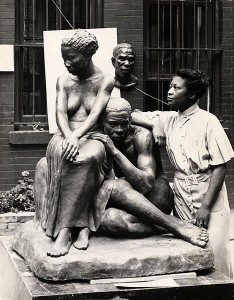 Savage arrived in New York with $4.60, found a job as an apartment caretaker, and enrolled at the Cooper Union School of Art where she completed the four-year course in three years. During the mid-1920s when the Harlem Renaissance was at its peak, Savage lived and worked in a small studio apartment where she earned a reputation as a portrait sculptor, completing busts of prominent personalities such as W. E. B. Du Bois and Marcus Garvey. Savage was one of the first artists who consistently dealt with black physiognomy. Her best-known work of the 1920s was Gamin, an informal bust portrait of her nephew, for which she was awarded a Julius Rosenwald Fellowship to study in Paris in 1929. There she studied briefly with Felix Benneteau at the Académie de la Grand Chaumière. She had two works accepted for the Salon d'Automne and exhibited at the Grand Palais in Paris. In 1931 Savage won a second Rosenwald fellowship, which permitted her to remain in Paris for an additional year. She also received a Carnegie Foundation grant for eight months of travel in France, Belgium, and Germany.
Regenia A. Perry Free within Ourselves: African-American Artists in the Collection of the National Museum of American Art (Washington, D.C.: National Museum of American Art in Association with Pomegranate Art Books, 1992)