HAPPY BIRTHDAY TO THE LATE GREAT, MR. MARION MOTLEY!!!
Marion Motley was an American Football fullback and linebacker who played for the NFL Cleveland Browns in the All-America Football Conference (AAFC). He was a leading pass-blocker and rusher in the late 1940s and early 1950s, and ended his career with an average of 5.7 yards per carry, a record for a fullback that still stands.
A versatile player who possessed both quickness and size, Motley was a force on both offense and defense. Joe Perry once called him "the greatest all-around football player there ever was". Motley was also one of the first African-Americans to play the professional game in the modern era.
Motley grew up in Canton, Ohio. He played football through high school and college in the 1930s before enlisting in the military during World War II. While training in the U.S. Navy in 1944, he played for a service team coached by Paul Brown. Following the war, he went back to work in Canton before Brown invited him to try out for the Cleveland Browns, a team he was coaching in the newly formed AAFC. Motley made the team in 1946 and became a cornerstone of Cleveland's success in the late 1940s. The team won four AAFC championships before the league dissolved and the Browns were absorbed by the more established NFL. Motley was the AAFC's leading rusher in 1948 and the NFL leader in 1950, when the Browns won another championship.
Motley and fellow black teammate Bill Willis contended with racism throughout their careers. Although the color barrier was broken in all major American sports by 1950, the men endured shouted insults on the field and racial discrimination off of it. "They found out that while they were calling us niggers and alligator bait, I was running for touchdowns and Willis was knocking the shit out of them," Motley once said. "So they stopped calling us names and started trying to catch up with us." Focused exclusively on winning, Brown did not tolerate racism within the team.
Slowed by knee injuries, Motley left the Browns after the 1953 season. He attempted a comeback in 1955 as a linebacker for the Pittsburgh Steelers but was released before the end of the year. He then pursued a coaching career, but was turned away by the Browns and other teams he approached. He attributed his trouble finding a job in football to racial discrimination, questioning whether teams were ready to hire a black coach. Motley was elected to the Pro Football Hall of Fame in 1968.
HONORS & LEGACY:
In 1968, Motley became the 2nd black player voted into the Pro Football Hall of Fame, located in his hometown of Canton. Having played successfully as a fullback and pass blocker on offense and as a linebacker on defense, he is seen as one of the best all-around players in football history. Blanton Collier, an assistant who took over as the team's head coach after Paul Brown's firing in 1963, said Motley "had no equal as a blocker. He could run with anybody for 30 yards or so. And this man was a great, great linebacker."
Most of Motley's runs were trap plays up the middle, but he had the speed to run outside. "There's no telling how much yardage I might have made if I ran as much as some backs do now," he once said. Running back Jim Brown surpassed Motley's rushing records in the early 1960s, but many of Motley's coaches and fellow players regarded Motley as the better player, in part because of his strength as a blocker.
"There is no comparison between Jim Brown and Marion Motley," Graham said at a luncheon in Canton in 1964. "Motley was the greatest all-around fullback."
In his books The Thinking Man's Guide to Pro Football and The New Thinking Man's Guide To Pro Football, football writer Paul Zimmerman of Sports Illustrated called Motley the best player in the history of the sport.
He was named to the NFL's 75th Anniversary All-Time Team in 1994.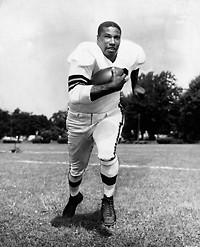 Finish Reading The Originally Post on
Daily Black History Facts