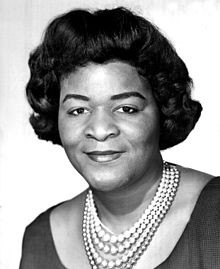 Actress Claudia McNeil is best known for her role as matriarch Lena Younger in both the stage and screen productions of A Raisin in the Sun. She later appeared in a 1981 production of the musical version of the play; Raisin presented by Equity Library Theater.
McNeil was born in Baltimore, Maryland, to Marvin Spencer McNeil, an African-American, and Annie Mae Anderson McNeil, an Apache Indian. The family moved to New York City soon after her birth. She was raised by her mother after her father abandoned the family.
By the age of 12, McNeil was working for The Heckscher Foundation for Children. There she met a Jewish couple who later adopted her,  and McNeil became fluent in Yiddish. She became a licensed librarian but soon began singing in vaudeville theaters and performing in nightclubs in Harlem. She was advised by Ethel Waters to start acting and made her New York stage debut in 1953, playing Tituba in The Crucible at the Martin Beck Theater.
Years later, Langston Hughes chose her to sing in his musical play Simply Heavenly. In 1961, McNeil recreated her 1959 stage role in the film A Raisin in the Sun and became so identified with the part of the matriarch. She married at 19 to a husband whom she lost during World War II. She retired in 1983 and two years later moved into the Actors' Fund Nursing Home in Englewood, New Jersey. McNeil died there on November 25, 1993, from complications related to diabetes.
Sources07:
https://www.britannica.com/biography/Claudia-McNeil
http://www.nytimes.com/1993/11/29/obituaries/claudia-mcneil-77-an-actress-best-known-for-raisin-in-the-sun.html