Frantz Omar Fanon was a Martinique-born Afro-Caribbean psychiatrist, philosopher, revolutionary, and writer whose works are influential in the fields of post-colonial studies, critical theory, and Marxism.
Fanon a revolutionary political thinker, became a spokesman for the Algerian revolution against French colonialism. His book The Wretched of the Earth (1961) is seen as the "bible of Third Worldism." Fanon also developed some important insights into the ideological aspects of racialism and Black consciousness.
Fanon was born in the French colony of Martinique on July 20, 1925. His father was a descendant of enslaved Africans; his mother was said to be an "illegitimate" child of African, Indian and European descent.
Fanon left the colony in 1943, at the age of 18, to fight with the Free French forces, and was awarded a Croix de Guerre after sustaining a serious shrapnel wound in the chest. After the war, he stayed in France, completing his studies in medicine and psychiatry at the University of Lyon. Embittered by the racism he encountered Fanon gravitated to radical politics.
His first book. Black Skin, White Masks, was published in 1952, when Fanon was only 27 years old. Originally, Black Skin, White Masks was a doctoral dissertation, submitted at Lyon, entitled "Essay on the Disalienation of the Black". However when it was rejected, it prompted Fanon to publish it as a book. Fanon's books are seen as a major influence upon subsequent generations of thinkers, activists and liberation movements.
In 1960, Fanon was appointed ambassador to Ghana by Algeria's FLN-led provisional government, travelling throughout Africa as a spokesman for the revolution. It was in Ghana that Fanon was diagnosed with the leukemia. He immediately decided to write a new book, his last, The Wretched of the Earth, the book was written in ten weeks. In October 1961, Fanon was brought to the United States by a C.I.A. agent so that he could receive treatment at a National Institutes of Health facility in Bethesda, Maryland. He died two months later, on December 6, 1961.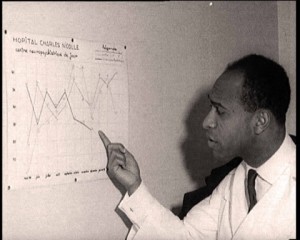 source: