Sarah Keys Evans was a Private in the United States Army. On August 1, 1952, she was looking forward to returning home from her assignment in Fort Dix, New Jersey, to her quaint little home in Washington, North Carolina, and celebrating with her family, friends, and members of the hometown church.
Evans was on the bus traveling home when, around midnight, the bus driver made a pit stop in Roanoke Rapids, North Carolina. Each passenger was asked to show their tickets. When it was time for Evans to show her ticket, the driver made the suggestion that she should change her seat. Evans told the driver that she was comfortable where she was sitting. However, the driver never took her ticket.
After the bus driver collected tickets from all the other passengers, he came to the front and made an announcement telling the passengers that there needed to be a bus change. The driver asked everyone to get off the bus to switch, except for the woman who refused to change her seat. He explained that since Evans didn't want to move, she could just stay and remain where she was sitting.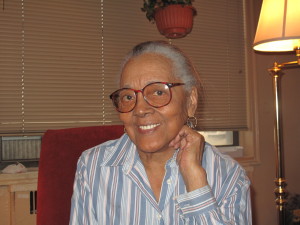 Evans realized that the situation was severe. Dressed in uniform in accordance with Army expectations, she started to leave with the other passengers. She knew it was not in her best interest to be left alone on the bus. Private Keys walked off the bus that night of her own free will. However, she was not able to enter the bus that would take her home. Instead, the police came and arrested her for disorderly conduct. She was jailed for 13 hours. Although the police told her that they would contact her family, her family was never notified of her whereabouts and what had taken place.
Private Keys was told that she would be set free if she paid a $25 fine. However, she did not have enough money on her. She was taken to a bus station, given an assigned seat, and told not to move until she reached her destination.
Her father, who always taught her to stand up for her rights, helped her go back to find out what was so disorderly about her conduct. That path eventually led to a battle in a lower court, which she lost. The family then sought help from the National Association for the Advancement of Colored People, which put Dovey Johnson Roundtree and her partner Julius Robertson on the case. After three years of court battles, false accusations, and other difficulties, Private Sarah Keys-Evans reached closure.
On Nov. 7, 1955, the Interstate Commerce Commission (ICC) came to a decision in the Sarah Keys vs. Carolina Coach Company case. The case was essential in the civil rights movement as it broke adherence to the "separate but equal" ruling established by Plessy vs. Ferguson. It ruled racial segregation on interstate buses a violation of the Interstate Commerce Act, and was the only explicit rejection made by either a court or a federal administrative body of the "separate but equal" doctrine with regards to interstate bus travel.
"We conclude that the assignment of seats on interstate buses, so designated as to imply the inherent inferiority of a traveler solely because of race or color, must be regarded as subjecting the traveler to unjust discrimination, and undue and unreasonable prejudice and disadvantage…We find that the practice of defendant requiring that Negro interstate passengers occupy space or seats in specified portions of its buses, subjects such passengers to unjust discrimination, and undue and unreasonable prejudice and disadvantage, in violation of Section 216 (d) of the Interstate Commerce Act and is therefore unlawful."
The ruling was announced to the public a mere six days before Rosa Parks defied Jim Crow laws on a bus in Montgomery, Alabama.
sources:
http://www.army.mil/article/120456/The_quietly_defiant__unlikely_fighter___Pfc__Sarah_Keys_and_the_fight_for_justice_and_humanity/
http://www.womensmemorial.org/Education/BHMSys.html