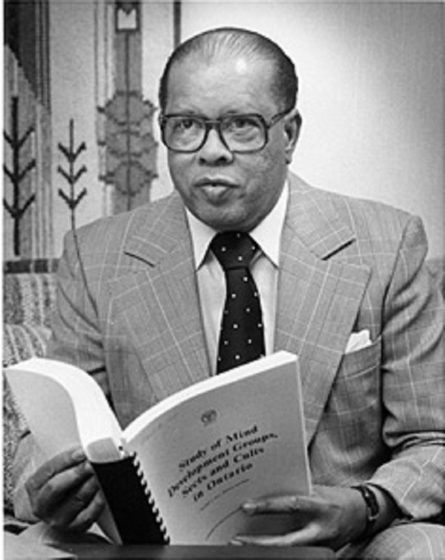 Daniel G. Hill, human rights activist, historian, and public servant was prominent in the movement to overturn racial discrimination in Canada.
Hill was born in Independence, Missouri, he grew up in the western part of the United States. In 1948, he graduated with a BA from Howard University. In 1950, he moved to Canada to study sociology at the University of Toronto. He received an M.A. in 1951 and a Ph.D. in 1960. In 1953, he married Donna Bender; they had three children.
After completing his studies, Hill worked as a researcher for the Social Planning Council of Metropolitan Toronto. He also served as Executive Secretary of the North York Social Planning Council.  In 1972, he became Ontario Human Rights Commissioner. In 1973, he resigned to found his own human rights consulting firm and from 1984 to 1989, he was the Ontario Ombudsman.
In 1978, Daniel Hill, Donna Hill, Wilson Brooks and other educators co-founded the Ontario Black History Society. It became the first major public organization in Canada focused on the history of people of African descent in the country. He headed the organization for six years. In 1981, Hill wrote the book, The Freedom Seekers: Blacks in Early Canada. Daniel Hill died on June 26, 2003.
source:
http://blackhistorycanada.ca/arts.php?themeid=22&id=6