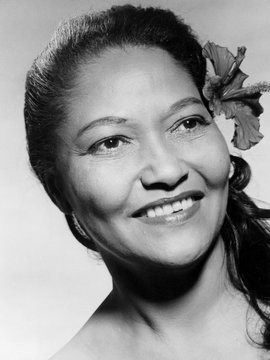 Maidie  Norman is remembered as the actress who rewrote lines in the film "What Ever Happened to Baby Jane?" where she was cast as a servant to give the role more dignity. Besides being a stage and film actress, she also was a radio personality, literature and theater instructor.
Maidie Ruth Gamble Norman was born on a plantation in Villa Rica, Georgia to Louis and Lila Graham Gamble. She was raised in Lima, Ohio, and began studying drama and performing in Shakespeare plays. She graduated from Central High School in 1930 and attended went on to attend Bennett College, where she earned a Bachelor of Arts degree in 1934. She received a Master's degree in drama from Columbia University in 1937.
Her professional career in radio began with appearances on The Jack Benny Program and Amos 'n' Andy. In 1946, she began studying at the Actors' Laboratory.  Her debut on stage followed with her portrayal as "Honey" in Deep Are the Roots at the Mayan Theater in Los Angeles in 1949.
She made her film debut in 1947 in "The Peanut Man" but found it difficult to portray positive roles for black women and felt her career in film was limited in playing maids and domestics. While she did appear in such roles, Norman refused to play the roles in a subservient or stereotypical manner that was considered at that time the 'norm.'
During the 1960s and for the remainder of her career, Norman appeared mainly in television roles as she believed there were more opportunities for African American performers in the medium. Some of her television appearances include shows, The Loretta Young Show, Perry Mason, Alfred Hitchcock Presents, Ben Casey and Dr. Kildare. In 1961, Norman appeared in the Los Angeles production of A Raisin in the Sun. She also made appearances on Good Times, The Jeffersons, Little House on The Prairie and The Streets of San Francisco.
From 1955 to 1956, she taught at the University of Texas at Tyler. In the 1962 classic "Baby Jane," starring Bette Davis and Joan Crawford, Ms. Norman refused to play the maid as a doltish, stereotypical character, instead, she rewrote her lines to give the role dignity.
Norman was also an artist-in-residence at Stanford University from 1968 to 1969. In 1970, she created and taught a course in African American theater history at UCLA. It was the first course devoted to the subject of African American studies in the college's history. Norman taught at UCLA until 1977. he married real estate broker McHenry Norman and they had one son. They remained married until McHenry's death. Norman died of lung cancer on May 2, 1998.
sources:
http://www.nytimes.com/1998/05/12/arts/maidie-norman-85-maid-in-baby-jane.htm
http://www.imdb.com/name/nm0635564/bio
http://www.famousbirthdays.com/people/maidie-norman.html