William Tillman was a 27-year-old steward and cook aboard the S.J. Waring, a 300-ton schooner built in Port Jefferson, N.Y., in 1853 and based out of Brookhaven on Long Island. He was born to free parents in Delaware and moved with his mother to Rhode Island while a teenager. He later settled in New York City but returned to Rhode Island to get married in 1863, and was listed in the 1870 Census as living and working as a seaman in Warwick.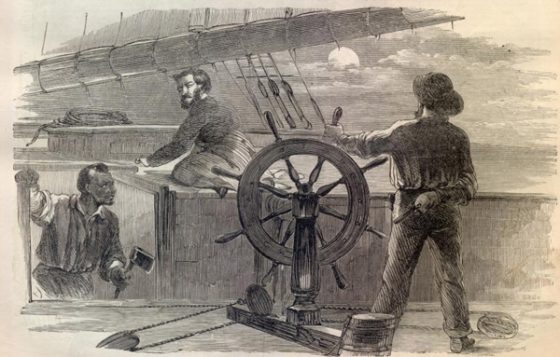 The Waring was actually the third vessel that Jefferson Davis, a Southern privateer had seized during its raid on Union shipping in the Atlantic. Tillman had been told by Confederate sailors that they planned to sell him into slavery. Reacting to the news, Tillman staged a one-man revolt on July 16, 1861, using a hatchet to kill three of the privateers in the same manner if they did not help sail the ship to a Northern port.
The Confederates who managed to survive the attack complied with Tillman with the help of other crew members. Tillman guided the ship back north, arriving in the New York Harbor five days later. The ship's arrival coincided with the Union defeat at the First Battle Run.
After the uprising, Tillman was hired by P.T. Barnum's New York museum to regale audiences with the story of how he killed three pirates in less than eight minutes. His appearances were a big hit with the audiences and people traveled far away to him speak and see the hatchet he used.
There are no records of what happened to Tillman in his later life. He disappeared from history records. His story was discovered by a Brooklyn, New York native who was doing research on the Civil War.
Sources:
http://www.csueastbay.edu/news/2012/02/Patch-HaywardHistoricSoc-020112.html
http://www.tnj.com/black-history-makers/black-seamans-heroics-recalled-new-film