Ernest Gillespie doesn't back out of a promise.
At the age of 81, he is graduating from high school – because he said he would.
Sixty-five years ago, when he was 17, Gillespie dropped out of school. He wanted to help his mother, a single mom financially struggling to raise two children.
He said he thought if he could get a job it would help her out.
"She kinda taught us to be self-sufficient… don't depend on other folks," Gillespie said.
But he made his mom a promise. He said he one day he would finish school.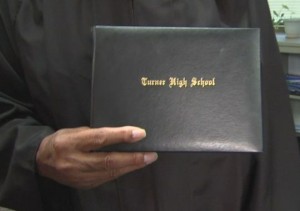 The years passed, jobs came and went, children then grandchildren were born. But Gillespie never forgot that promise to his mom.
"I read something in the Bible that stuck with me and it said never make a vow you don't finish," Gillespie said.
Last year, he went back to high school. And this Wednesday, he will finally get his diploma.
Original Article Found At http://www.9news.com/story/news/education/2015/05/11/man-graduates-65-years-after-dropping-out-of-high-school/27157959/