John Lay Thompson was an African-American businessman, editor, publisher, and lawyer. He is most noted for his newspaper journalism.
Thompson was born on April 3, 1869, in Decatur County, Iowa. He graduated from Iowa Business College in 1896 and Drake University's law school in 1898. He was able to secure political positions at a time when it was unlikely for an African-American to reach such status.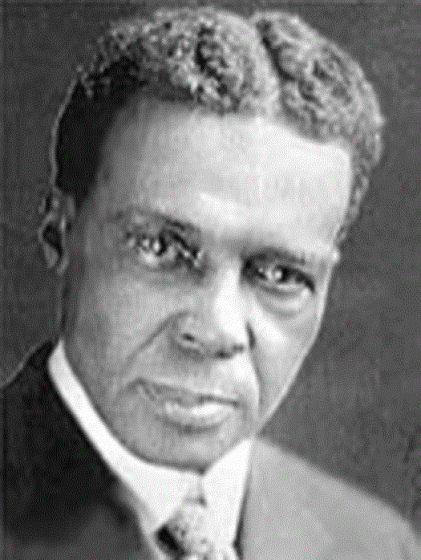 From 1896 to 1922, he published The Iowa Bystander. The paper was one of the first black newspapers in the state. During this time, Thompson built a multiracial readership with a statewide network of correspondents.
In 1899, he became the first African American elected to the Polk County Republican Central Committee. The following year, he ran unsuccessfully for justice of the peace in Des Moines Township. Thompson also served as Polk County's deputy county treasurer, and in 1911 and 1912, he was deputy clerk in the Hall of Archives Historical Building in Des Moines.
Through Thompson's efforts, the black citizens of Iowa gained a weekly communications network which he, and later J.B. Morris, would maintain for more than 75 years. A supporter and acquaintance of Booker T. Washington, Thompson espoused Washington's self-help views in innumerable articles. Thompson encouraged black people to start their own businesses, support black business owners, and undertake measures to uplift the race economically.
Washington's theory, which Thompson echoed, was that if black people improved their economic status, proved their reliability as hard workers, and de-emphasized political activism, full civil rights would naturally follow. Demonstrating his commitment to this view, Thompson helped form and lead the Iowa Washington's National Negro Business League.
Thompson later opened a three-story brick Thompson Hotel in Des Moines in 1915. Two years later, he wrote and published a pictorial history of the nation's first training camp for black officers conducted at Fort Des Moines. John L. Thompson died on July 23, 1930.
sources:
http://uipress.lib.uiowa.edu/bdi/DetailsPage.aspx?id=377
http://aaregistry.org/historic_events/view/business-news-john-l-thompson