Mary Elizabeth Carnegie was a ground-breaking educator and nurse. She was the first African-American nurse to serve as a voting member on the board of a state nursing association. Carnegie graciously served as a mentor to generations of African American nurse leaders.
Carnegie was born Mary Elizabeth Lancaster in Baltimore, Maryland, on April 19, 1916, but grew up in Washington, D.C. She graduated from Dunbar High School in 1932, and entered the Lincoln nursing school in New York at 16, graduating four years later. She also received a bachelor's degree from West Virginia State College, a master's degree from Syracuse University and a doctorate in public administration from New York University in 1972.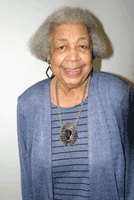 After receiving her bachelor's degree, Carnegie took a job in a hospital in Richmond, Virginia, before becoming a clinical instructor at St. Philip Hospital School of Nursing. While working at St. Philip, Carnegie was exposed to a different social system in the nursing world in the south, which made her determined to increase African Americans' access to professional nursing education.
She later initiated the baccalaureate nursing program at Hampton University, where the archives are named in her honor. She was inducted into the American Academy of Nursing in 1976 and served as the organization's president from 1978-1979.
Dr. Carnegie received eight honorary doctorates and countless awards, including the George Arens Pioneer Medal from her alma mater, Syracuse University, the President's Award from Sigma Theta Tau International, and the Living Legend Award from the Association of Black Nurse Faculty in Higher Education. She was inducted into the Virginia Nursing Hall of Fame in 2009. Carnegie died in 2008.
sources:
http://www.nursingworld.org/MaryElizabethCarnegie
http://www.wikidoc.org/index.php/Mary_Elizabeth_Carnegie