On February 9, 1966, the "Maryland Freedom Workers" were established when 20 Black women working as nurse aides, housekeepers, and kitchen staff workers walked off their jobs. The group was working at the Lincoln Nursing Home in Baltimore, Maryland, when they contacted field secretaries of the Congress of Racial Equality (CORE) and told them that Lincoln was "on strike," and their union name was the "Maryland Freedom Workers Local No. 1."
At the time, the workers made as little as 25 cents an hour and were scheduled to work up to 72 hours per week. The women became the source of a "new kind of union," the Maryland Freedom Union (MFU). The union was founded because workers were frustrated at the failed attempts of the CORE staff members to help Black workers obtain union benefits and rights. They were certain that the AFL-CIO was not interested in organizing Black workers, so they were elated with the success of the Student Nonviolent Coordinating Committee's Mississippi Freedom Labor Union project. CORE decided that Baltimore, Maryland, would be the site for its experiment for the Freedom Union.
The union teamed up with local supporters, such as schools and churches, to picket houses belonging to nursing home owners and march to City Hall. After the organization's victory, the union began to organize workers in small retail and service establishments throughout the inner city and won a recognition agreement from Silverman's Department Store. While it thrived, the MFU's membership, which was made up of all Black members, 90% female members, many of whom had recently arrived from the south, created a union that differed from that of a typical AFL-CIO affiliate.
Although MFU campaigns expanded to include food stores, hospitals, and other small businesses, its momentum slowed under the financial and ideological crises afflicting civil rights organizations. By the early 1970s, much of the inner-city stores and nursing homes organized by the MFU were forced to shut down.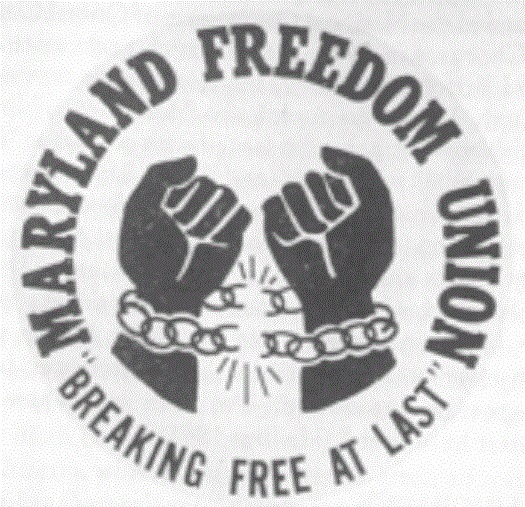 source:
http://aaregistry.org/historic_events/view/maryland-freedom-union-created