Hanna Atkins was known for being a people person who fought for civil rights, women's rights, child welfare, and mental health reform while serving in the Oklahoma House of Representatives from 1968 to 1980. She was also recognized as the first black woman elected to the Oklahoma House.
Diggs was born on November 1, 1923 in Winston-Salem, North Carolina to James and Mabel (Kennedy) Diggs. She was the fifth of six children born to the family. She and her sisters all obtained a bachelor's degree as well as a master's degree. Edward O. Diggs, her brother, was the first African-American to attend the University of North Carolina Medical School in 1961.
Diggs attended segregated public schools in Winston-Salem and graduated as valedictorian at age 15 from Atkins High School. She earned a B.A. degree in French and Biology from St. Augustine College in Raleigh, North Carolina in 1943 and a library science degree from the University of Chicago in 1949. She later studied at the School of Law at Oklahoma City University and earned a Master's degree in Public Administration from the University of Oklahoma in 1989 when she was 66 years old.
Atkins is best known as the first African American woman to be elected to the Oklahoma House of Representatives. She served from 1968 until 1980 as the representative from the 97th District. Atkins authored many important bills during her tenure.  She served as chairwoman of the Public and Mental Health Committee. She also served on the House Appropriations and Budget Committee, Commission on Education and Professional Standards Board, and Higher Education.
In 1980, President Jimmy Carter named Atkins to a United Nations assembly where she worked on social and economic issues. She later moved back to Oklahoma where she worked in numerous organizations.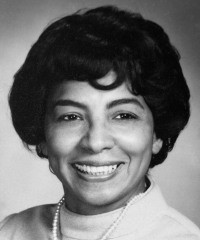 source:
https://en.wikipedia.org/wiki/Hannah_Atkins