Mayme Clayton was a historian, librarian, and researcher who dedicated her life to preserving information about the contributions of African Americans.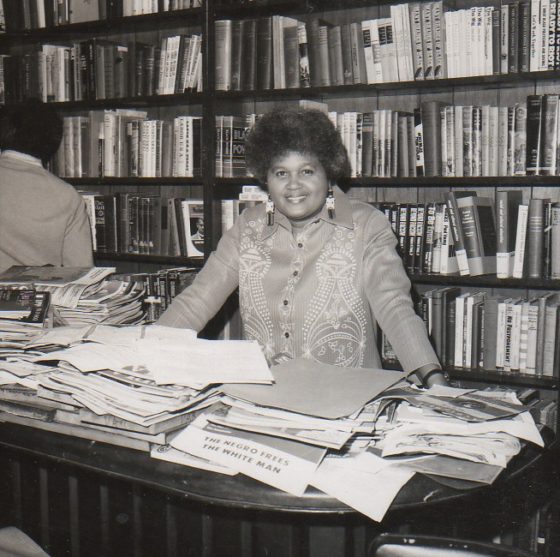 Clayton was born in Van Buren, Arkansas in 1923. She graduated high school at the age of 16 and went on to attend Lincoln University in Nebraska. After graduating in 1945, she moved to New York, where she married, and eventually relocated to Los Angeles. She earned a B.A. degree from the University of California-Berkeley, a master's of library science from Goddard College, and a Ph.D. from Sierra University in Los Angeles. Her career as a librarian began in 1952 at the Doheny Library at the University of Southern California.
In 1957, she left USC to become a law librarian at the University of California, Los Angeles, where she remained for 15 years. While at UCLA, Clayton also served as a consultant and founding member of the Afro-American Studies Center Library. During the '60s, UCLA asked her to develop a library for the Black Studies Department.
The mission of preserving out-of-print African-American materials fused with her unwavering and passionate interest in preserving black culture. Leaving UCLA, Clayton took a position at Universal Books in Hollywood; when the store closed, the partners in the store divided the remaining volumes between themselves. Clayton left with more than 4,000 volumes of books that pertained to Black society and culture.
Over the years, Clayton was able to preserve over 20,000 pieces of African American history through films, books, magazines, music, and advertisements. Many of the items in the collection were first editions of prominent blacks including Phyllis Wheatley, Zora Neale Hurston, and George Washington Carver. Clayton was also the founder of the Black American Cinema Society, which awards scholarships and hosts film festivals. She was the recipient of several awards. Mayme Clayton died in 2006; she was 83.
sources:
http://claytonmuseum.org/about/history
http://www.thehistorymakers.com/biography/mayme-clayton-40
http://aaregistry.org/historic_events/view/mayme-clayton-preservationist-black-america