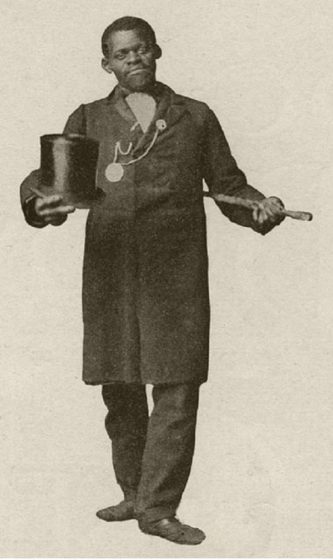 Joseph "Doc" Brown took pride in being recognized as the champion cakewalker. He also called himself the originator of the dance in the United States. When it came to dancing, Brown considered himself just naturally gifted.
Brown, also known as William Henry Joseph Cutter Brown was born in Missouri around 1835. He grew up as a slave in Missouri on Meredith Miles Marmaduke Estate. After the emancipation, he moved to Kansas City where he found work and developed a name for himself, ' The Champion Cakewalker'.
Through the years, Brown elevated his style of dance into a competitive art form. By the early 1890s, he was competing in cakewalks around the world. He was recognized throughout Kansas City and celebrated as one of their heroes. Brown was also considered one of the wealthiest men of the city. He had his own horse and wagon and appeared in the Carnival parade in 1893.
In 1899, Charles L. Johnson, who at the time was a local composer, wrote a song about the famous cakewalker. The song was called "Doc Brown's Cakewalk". The song was the first published ragtime composition of Johnson's and the first to gain local recognition.
sources:
http://kcur.org/post/reconsidering-legacy-kcs-champion-cakewalker#stream/0