Gertrude Pocte Geddes-Willis was one of the first black female funeral directors in New Orleans. In 1940, Willis was the founder and president of two corporations, Gertrude Geddes Willis Life Insurance Company and Gertrude Geddes Willis Funeral Home.
Her family moved to New Orleans during her early childhood. Her first marriage was to Clem Geddes who died in 1913. He was one of the three sons of George Geddes, pioneer in the funeral business.
Clem Geddes and Arnold Moss established Geddes & Moss Undertaking Parlor in 1909. After the deaths of her husbands and partner, Gertrude filed for reorganization and renamed the business Gertrude Geddes Willis Funeral Home and Life Insurance Company, which name it bears today. She expanded the facility and increased services.
Geddes was a lifetime member of the NAACP and the YWCA and a member of several benevolent societies and professional organizations. She was also active in the Ladies Auxillary Council of the Knights of Peter Claver. One of her special interests was youth development. Throughout her career her entrepreneurship gained the respect of both local and national business leaders. Gertrude Geddes-Willis died on February 20, 1970.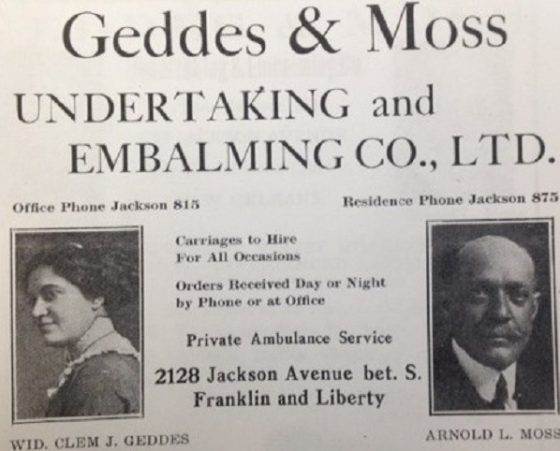 source:
http://www.gertrudegeddeswillis.com/fh/aboutus/history.cfm