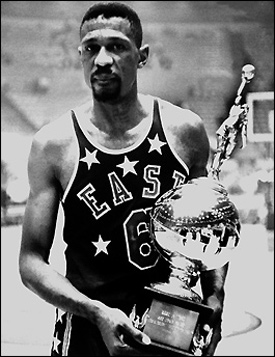 William "Bill" Russell, basketball legend, author, and civil rights figure became the first black head coach in any major sport. He led the Boston Celtics to 11 NBA world titles in 13 years.
Russell was born February 12, 1934, in West Monroe, Louisiana to Charles and Katie Russell. His family moved to Oakland, California where his mother died at the age of 32. He along with an older brother were left to be raised by their father. During that time most children were sent to be raised by a female relative. Russell desired a good education which kept him focused while in school.  He graduated from McClymonds High School in 1952 and then attended the University of San Francisco.
He led the USF "Dons" to two NCAA championships, a 56-game winning streak, and was named NCAA Tournament Most Outstanding Player in 1955. In 1956, Russell and the U.S. Olympic basketball team won a gold medal. That same year in December, he joined the Boston Celtics, a progressive team which had hired the NBA's first black player in 1950.
As a rookie, Russell helped the Celtics win their first NBA title. He led them to a total of 11, before retiring in 1969. He had been named the Most Valuable Player (MVP) five times and was a 12-time All-Star, also the first black player elected to the Basketball Hall of Fame in 1974. Russell was acclaimed by many as the greatest player in the history of the NBA before the 1980s when Michael Jordan came along.
After retiring from playing basketball, Russell became the first black head coach in NBA history, succeeding the Celtics' Red Auerbach in 1966.  Other accolades of Russell include being inducted into the Naismith Memorial Basketball Hall of Fame and the National Collegiate Basketball Hall of Fame.
He was selected to the NBA 25th Anniversary Team in 1971 and the NBA 35th Anniversary Team in 1980 and named as one of the 50 Greatest Players in NBA History in 1996, one of only four players to receive all three honors. In 2007, he was enshrined in the FIBA Hall of Fame. In 2009, the NBA announced that the NBA Finals Most Valuable Player trophy would be named the Bill Russell NBA Finals Most Valuable Player Award in honor of Russell.
In 2012, the city and the Celtics announced that a statue honoring Russell would be placed on Boston's City Hall Plaza. The design features a statue of Russell in game action with 11 plinths representing the 11 championships he helped the team win.
sources:
http://www.nba.com/history/players/russell_bio.html
http://www.biography.com/people/bill-russell-9467384