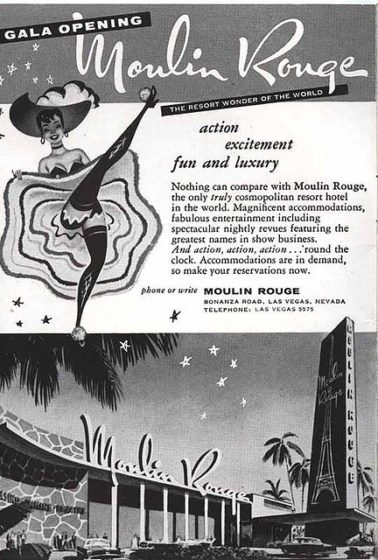 The first integrated hotel-casino in Las Vegas, the Moulin Rouge, opened on May 24, 1955 in West Las Vegas, the city's segregated area. The casino was owned by whites and intended to compete with whites-only resorts on the Strip and downtown. The casino did not do as well as expected in the beginning because some Blacks resented the idea of a segregated casino.
However, big name entertainers such as Sammy Davis, Jr., Pearl Bailey, and Louis Armstrong performed and frequented the casino. Numerous white entertainers often joined them after their shows to gamble and perform. The Moulin Rouge also provided employment for local African American entertainers, most notably as hosts and chorus girls.
The Moulin Rouge closed its doors after only six months of operation. It fell victim to its location, which was away from other resorts and local overbuilding.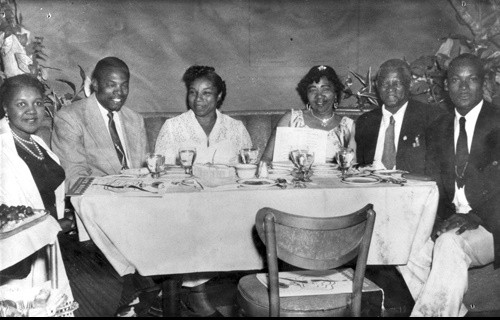 The Riviera, Dunes, New Frontier, and Royal Nevada all opened that year and ran into financial trouble as well. But that was not the end for the Moulin Rouge. It opened and closed several times and exchanged through hands of a series of owners, most notably Sarann Knight-Preddy, the first African American woman to hold a Nevada gaming license.
The Moulin Rouge also was the site of the meeting in 1960 that led to an agreement between civil rights leaders and casino owners to allow African Americans to gamble at Strip and downtown properties—a step that also reduced the Moulin Rouge's clientele.
sources:
http://onlinenevada.org/articles/moulin-rouge
https://en.wikipedia.org/wiki/Moulin_Rouge_Hotel