Myrtis Dightman was the most successful black cowboy of the 1960s. As a bullfighter turned bull rider, Dightman became the first black cowboy to ride in the National Finals Rodeo. Dightman finished third in the bull riding world standing.
Dightman was born in 1935 in Cockett, Texas. Dightman grew up on a ranch with his siblings. His father was a hired laborer and taught his son what it meant to earn his keep; the young Dightman was rewarded with the opportunity to take part in trail rides.
As he grew older, he left school to work on the ranch. His first introduction to the Prairie View Trail Ride was in 1957 and from 1958 to 1960, he worked as a bullfighter.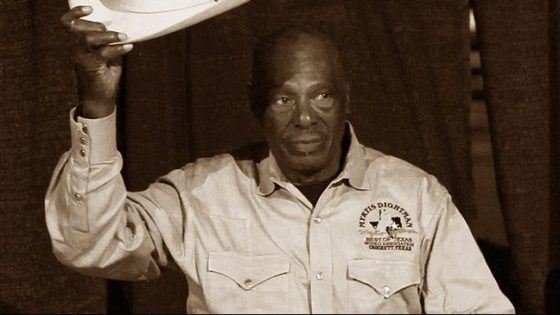 From 1966 to 1972, Dightman missed qualifying for the NFR only once. In 1972, he was hired to do stunts for the rodeo movie J.W. Coop. Quite often, when the draw was announced, Dightman would be matched up with bulls that had never been ridden. Only years later did he learn that those draws had been fixed.
After retiring from bull riding, Dightman was inducted into several Hall of Fames, including the Texas Rodeo Hall of Fame as its first living African-American, and the National Cowboy Hall of Fame in 1997. In 2001, Dightman was inducted into the Texas Rodeo Cowboy Hall of Fame, and in 2003, he entered the National Cowboys of Color Museum and Hall of Fame. On top of these inductions, in 2003, he was also inducted into the Professional Bull Rider's Ring of Honor.
source:
http://www.pbr.com/en/news/features/heroes-legends/2011/7/heroes-legends-myrtis-dightman.aspx