The "Jerry Rescue" occurred on October 1, 1851, and involved the daring, public rescue of a fugitive slave, William "Jerry" Henry. Henry was a 40-year-old cooper from Missouri and had been arrested the same day in Syracuse, New York. The arrest happened during the anti-slavery state convention of the Liberty Party.
Henry was arrested under the Fugitive Slave Law. The anti-slavery Liberty Party was holding its state convention in the city, and when word of the arrest spread, several hundred abolitionists, including Charles Augustus Wheaton, broke into the city jail and freed Jerry. The event came to be widely known as the Jerry Rescue. There was a constant fight against slavery in Central New York because New York State was a free state and a number of wealthy and well-positioned citizens who were sympathetic to slaves lived in the area. There were always slaves passing through the city trying to escape to Canada for freedom.
Henry's trial took place the same day at the Townsend Building in Clinton Square in the office of U.S. Commissioner Sabine, who tried the case. It was his first trial. However, Jerry escaped during the afternoon session and Sabine's office was wrecked. Henry stayed hiding throughout Syracuse for the next few days until he was taken to the Orson Ames House at Mexico, New York. He later crossed over into Canada.
The rescuers who helped him escape were tried, but only one was convicted. Nine of the suspects, including Rev. J.W. Loguen, who was also a fugitive slave, fled to Canada. The event was commemorated in the 1850s with the renaming of the Townsend Block to the Jerry Rescue Building, which is no longer standing. However, the event is now memorialized with a monument in Clinton Square, Syracuse.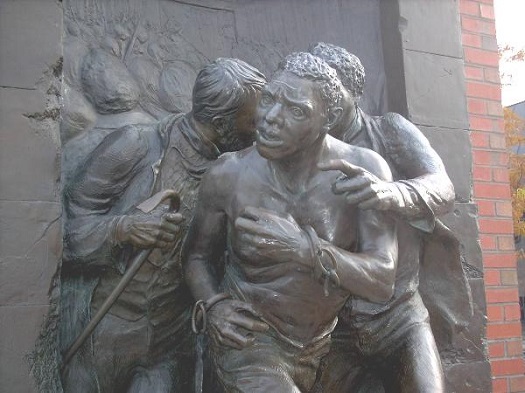 source:
http://library.syr.edu/digital/exhibits/g/GerritSmith/jerry.htm