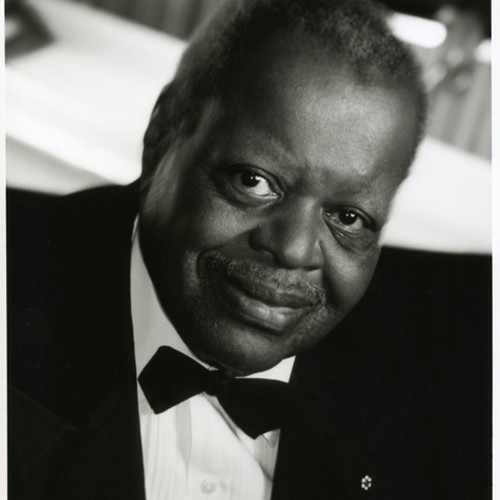 Oscar Peterson has been regarded by many as one of the greatest black Canadian pianists in the world. He had an influence on Canadian music unlike any other musician of his time. His early records earned him the nickname "The Brown Bomber of Boogie-Woogie."
Peterson was born in Montreal of Caribbean parents in 1925. His father, Daniel, a CPR porter, led the family band in concerts in Montreal church and community halls. Oscar played trumpet at age five but switched to piano at eight after a battle with tuberculosis. He attended the Conservatoire de musique du Québec à Montréal. As a teenager, he won an amateur contest and began his own radio show, "Fifteen Minutes' Piano Rambling," in Montreal.
In 1951, Peterson formed a trio (piano, guitar, and bass) and rose to the forefront of jazz musicians, performing and recording throughout the US and Europe. Peterson was also a composer. His best-known compositions were his Canadiana Suite (1963), with jazz themes inspired by regions of Canada, and his Hymn to Freedom.
In the 1980s, he played successfully in a duo with pianist Herbie Hancock. After suffering a stroke in the late 1980s and 1990s, Peterson made performances and recordings with his protégé Benny Green.
Peterson's health declined rapidly in 2007. He had to cancel his performance at the 2007 Toronto Jazz Festival and his attendance at June 8, 2007, Carnegie Hall all-star performance in his honor, owing to illness. On December 23, 2007, Peterson died of kidney failure at his home in Mississauga, Ontario.
sources:
https://en.wikipedia.org/wiki/Oscar_Peterson