By: Alma Hill
When Karen Hass of MFA Boston went looking for photos from notable African American photographers for a museum publication, she had no idea that a relatively unknown photo by Gordon Parks was going to unearth an even deeper mystery, involving Fort Scott, Kansas, Jim Crow Era society, and the long forgotten memories of blacks in the Midwest.
Gordon Scott was the first African-American photographers to work for Life Magazine. At a young age, he left his home and his 14 siblings behind in Fort Scott in order to make a better life for himself. His career as a professional photographer spanned over a decade, and many of his collections were displayed in the pages of LIFE, and are still popular featured exhibits in museums today.
Haas discovered a mysterious photograph titled "Outside the Liberty Theater." Parks was listed as the photographer, but that was where the paper trail ended.
"I contacted the Gordon Parks Foundation and together we sorted out the fact that this was a photograph taken in Fort Scott, Kansas and related to a larger story that's widely unknown because it was never published in Life Magazine. That's really where it all began." Haas said in an interview with the Huffington Post.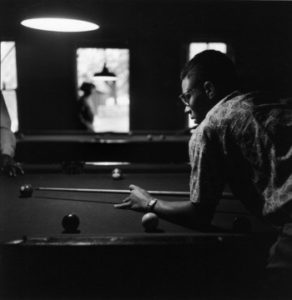 Eventually, an entire collection of photos was discovered, a photo journey that Parks had taken on a trip back home. Featured in the photos are images of his old friends, classmates, and social spaces he once frequented, all seen through the lens of segregation. One particularly poignant image features two young Black girls watching a baseball game, their backs to the camera,.They are standing a few feet from the benches; they cannot sit because the stands are already occupied by white adults.
The discover of Parks' forgotten photos gives us a significant look into the life of the average black American in 1950's Kansas. African American people live separately, but the practice is accepted. They are wary of their position in life, and many of Parks' photos depict a society on the outside looking in at the privilege that lies just beyond their reach. 
Gordon Parks' series was one of the most popular at the MFA Boston, not only because of the beautiful composition of a talented photographer but because of his ability to capture more than just pictures. The photos in the exhibit carry a weight to them, a heavy truth that blacks bore every day. That truth is still relevant today. His photos are a reminder that sometimes, the past is not so far behind.
See more Gordon Parks photos on the original post via Huffington Post