Paul Edward Winfield was a renowned television film and stage actor. He was the third African-American to be nominated for an Oscar. Winfield was best known for his portrayal of a Louisiana sharecropper, Nathan Morgan, struggling to support his family during the Great Depression in the landmark film Sounder, which earned him an Academy Award winning nomination. He also portrayed Martin Luther King, Jr. in the 1978 television mini-series King, which he was nominated for an Emmy Award.
Winfield was born in Los Angeles, California to Lois Edwards, a union organizer. His stepfather, Clarence Winfield, worked as a city trash collector and construction worker. Winfield attended Manual Arts High School in Los Angeles. After graduation he turned down a Yale scholarship, he accepted a scholarship to study theater arts at the University of Portland, Oregon, and later at the University of California.
Winfield carved out a diverse career in film, television, theater and voiceovers by taking ground-breaking roles at a time when black actors were rarely cast. He first appeared in the 1965 Perry Mason episode, "The Case of the Runaway Racer," as Mitch, a race car mechanic. His first major feature film role was in the 1969 film, The Lost Man starring Sidney Poitier. Winfield first became well-known to television audiences when he appeared for several years opposite Diahann Carroll on the groundbreaking television series Julia, he played Carroll's boyfriend.
Winfield also took science fiction roles. He portrayed Starfleet Captain Clark Terrell of the USS Reliant, and an unwilling minion of Khan Noonien Singh, in Star Trek II: The Wrath of Khan and several other roles. He also took on homosexual roles including Mike's Murder in 1984 and in Relax…It's Just Sex. He was also noted for his powerful and unique voice. He provided voices for several films. Throughout his career, Winfield performed in the theater. However, his only Broadway production, Checkmates, in 1988, co-starring Ruby Dee, was also the Broadway debut of Denzel Washington.
Winfield was also nominated for an Emmy Award for his performance Roots: The Next Generations. He won an Emmy Award, in 1995, for Outstanding Guest Actor in a Drama Series, for his appearance as Judge Harold Nance in an episode of the CBS drama Picket Fences.  Winfield was a civil rights campaigner, he was inducted into the Black Filmmakers Hall of Fame and won an Image Award by the National Association for the Advancement of Colored People. Winfield died in 2004.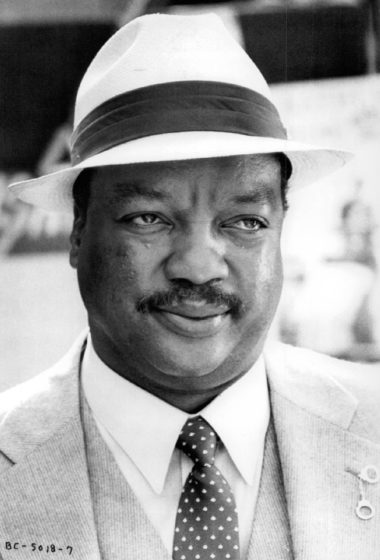 source:
http://www.biography.com/people/paul-winfield-10470514
https://www.theguardian.com/news/2004/apr/02/guardianobituaries1