Robert "Whirlwind" Johnson, who is considered to be the Godfather of Black Tennis, accomplished a long list of achievements both on and off the court.
Johnson began his sports career at Lincoln University in Pennsylvania, where he was an All-American running back. He picked up the nickname "Whirlwind" for his speed on the field. He was the first African-American physician to receive practice rights at Lynchburg General Hospital in Virginia. Johnson continued his medical practice in Lynchburg his entire career.
In Lynchburg, Johnson discovered and fell in love with tennis. Because he arrived to the sport too late to establish himself as a top singles athlete, he instead dedicated himself to doubles play and to discovering and coaching younger talent.
He was the founder of an all-expense paid tennis camp for black children. During this time in the South, there were no public courts where blacks children could learn how to play the game. Johnson was instrumental in encouraging the athletic careers of both Althea Gibson and Arthur Ashe, both of whom he personally coached.
As a medical professional, Johnson greatly valued education. He garnered for his campers' college scholarships through his network of associations established during his college football days. His lasting legacy is that he made tennis accessible for everyone by relocating it from private, segregated country clubs to integrated public facilities.
"Whirlwind" was inducted into several sports Hall of Fames, including the Virginia Sports Hall of Fame in 1972, the Mid-Atlantic Tennis Hall of Fame in 1988, and the International Tennis Hall of Fame in 2009. He is also an NAACP Life Membership chairman and a recipient of the Spiro T. Agnew Honorary Citizenship Award. Robert "Whirlwind" Johnson died on June 28, 1971.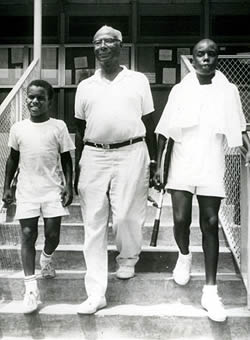 source:
http://www.lva.virginia.gov/public/trailblazers/2011/johnson.htm