Northern missionaries and abolitionists Laura Towne and Ellen Murray founded Penn School in 1862 for the education of newly freed Sea Island slaves. It was one of the first schools built in America for former slaves. The Penn School, established as part of the "Port Royal Experiment", was a model school in the South.
In 1862 during the second year of the Civil War, the U.S. Navy captured the island from Confederate forces. With that capture, 32,530 enslaved African Americans suddenly found themselves free people. Northern abolitionists recognized the need to educate the freedmen and believed that what they did here would become a model for helping freedpeople become full citizens across the United States.
Abolitionists raised donations which were sent to the island and some Northerners arrived to oversee what would be one of the first examples of Reconstruction even as the Civil War continued. The donations allowed schools to be set up to educate the ex-slaves.
The first classes were held in the living room of the abandoned Oaks Plantation before a school house was built. As more donations came in, land was purchased from plantation owners who had abandoned the island, and buildings were erected. The Penn School, named after Quaker William Penn, was the first building completed. In 1901, it became known as the Penn Normal Agricultural and Industrial School after adopting the Hampton Institute and Tuskegee industrial arts curriculum. The school operated through the end of World War II when education was then provided by the Beaufort County School system.
The facility also served as a meeting place and retreat for Dr. Martin Luther King, Jr. and the Southern Christian Leadership Conference during the 1960's.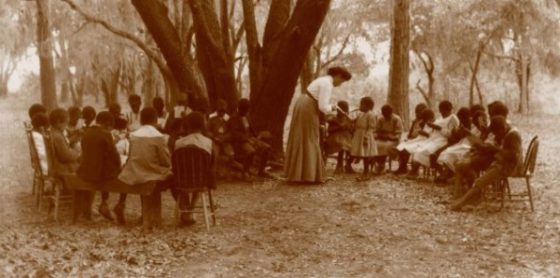 source:
https://discoversouthcarolina.com/products/672
http://www.blackpast.org/aah/penn-center-1862