Abolitionist Prince Hall is notable for his leadership in the free black community in Boston. Hall lobbied for education rights for black children and was extremely active in the Back-to-Africa movement. He is also noted for being the founder of "Black Freemasonry" in the United States.
Prince Hall was born between 1735 and 1738, but there is very little known about his place of birth and parents. Hall's birthday is celebrated on September 14. By the age of eleven, it is believed Hall was a slave or servant to Boston tanner William Hall, but was living as a free literate man by 1770.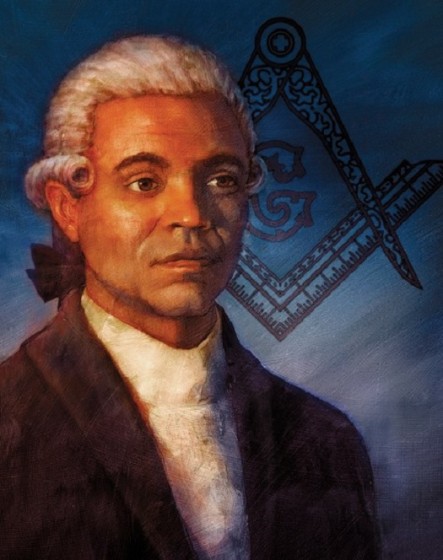 Hall married Flora Gibbs of Gloucester in 1770. However, he married for a second time to Sylvia (Zilpha) Ward Hall. While living in Boston, Hall worked as a peddler, caterer, and leatherworker.
In April 1777, Hall created five leather drumheads for an artillery regiment of Boston. He was known for encouraging enslaved and freed blacks to serve in the American colonial military. Hall believed if more blacks were involved in founding the new nation, it would aid in the attainment of freedom for all blacks.
The Masonic fraternity caught Hall's attention because Freemasonry was founded upon ideals of liberty, equality, and peace. Before the American Revolutionary War, Prince Hall and a few other free black men petitioned for admittance to the white Boston St. John's Lodge, but they were not allowed to join. After being rejected by colonial Freemasonry, Hall and the other men sought and were initiated into Masonry by members of Lodge No. 441 of the Grand Lodge of Ireland on March 6, 1775. The Lodge was attached to the British forces stationed in Boston. Hall and other freedmen founded African Lodge No. 1 and he was named Grand Master.
The black Masons did not have as much power as their counterparts; however, they could meet as a lodge, take part in the Masonic procession on St. John's Day, and bury their dead with Masonic rites. They were not permitted to confer Masonic degrees or perform any other essential functions of a fully operating Lodge. Prince Hall died in 1807.
source:
http://www.mindspring.com/~johnsonx/whoisph.htm
http://www.princehall.org/history.html