"The nation told Negro jokes, used Negro slang, turns of phrase, and danced Negro comic dances from its very beginning. That is the way this strange country operated." -Ralph Ellison, "American Humor" speech, 1970
Ralph Waldo Ellison was an American novelist, literary critic, and scholar.  Ellison is best known for his novel Invisible Man, which won the National Book Award in 1953. He also wrote Shadow and Act, a collection of political, social and critical essays, and Going to the Territory.
Ellison was born on March 1, 1914, in Oklahoma City, Oklahoma, and named after journalist and poet Ralph Waldo Emerson. His father worked as an ice and coal deliverer. However, his father died when he was just three years old from a work related accident. He was then raised by his mother Ida, who worked a variety of jobs to make ends meet.
After his primary education was completed, he traveled to New York, where he planned to make money to pay for his college expenses. He worked as a writer and researcher for the New York Federal Writers Program, where he became friends with Langston Hughes and Alan Locke. He later began to publish his essays and short stories.
Ellison published his most well-known novel, The Invisible Man, in 1952. The novel focused on a black civil rights worker from the South who moved to New York and became increasingly alienated because of racism. The book right away was a bestseller and he received the National Book Award the following year.
He later traveled throughout Europe in the mid-1950s, and lived in Rome for two years after becoming an American Academy fellow. He continued to write and published a collection of essays in 1964, Shadow and Act. He also published a second collection of essays, Going to the Territory. Ralph Waldo Ellison died from pancreatic cancer in New York City on April 16, 1994.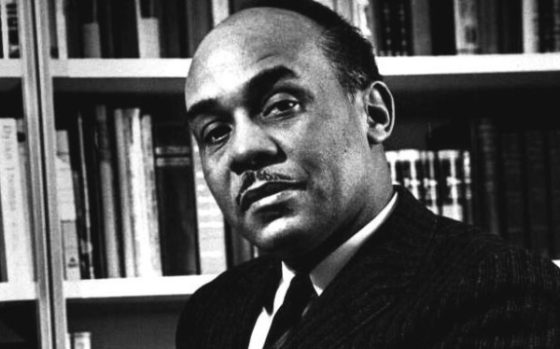 sources:
http://www.biography.com/people/ralph-ellison-9286702
http://www.pbs.org/wnet/americanmasters/ralph-ellison-an-american-journey/587/