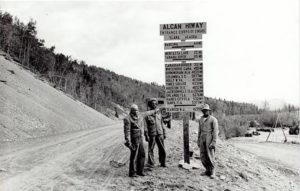 In February 1942, President Franklin Roosevelt authorized the building of the Alaska Highway. However, the problem was not the authorization; it was who would actually do the work. At first, the government hired civilian contractors for the roadway, but most of the task fell at the hands of the Army Corps of Engineers, this particular branch was responsible for flood control and repairing roads.
However, in order for the manpower needed to be provided African-American engineers were employed. Three regiments of black engineers were added to the already four white regiments. About a third of the troops assigned to the roadway were black.
As expected during that era, the black engineers were met with prejudice. Most people believed that the African-American engineers were not skilled or qualified as the whites.
Although the blacks and whites worked on the same highway, the units were kept strictly segregated. The black engineers were often shortchanged in their allotment of equipment. In one case, the 95th Engineer Regiment, the final black unit transferred to the highway, was left without bulldozers and other machinery. Although the 95th had more experience operating the equipment, the machinery was given to the all-white 35th Regiment. Black workers were given hand tools to use.
The tiresome work schedule and extreme conditions were tremendous challenges. Most of the men had never been in extreme cold. Many of the regiments were from the South or from other warm climates, such as Fort Ord in California, and working in Alaska and northern Canada was something they were not used to. To add to the difficulties, most of the men lacked much experience handling heavy machinery.
Despite the racial prejudice and the difficulty adjusting to the climate, all regiments were able to work together and complete the project. On October 25, 1942, the final link to the highway was cemented. Although much of the success of African-American engineers on the highway was largely forgotten, those who did recognize it, acknowledged the success of the black engineers work on Alaska-Canada Highway project as one of the events that led to desegregation of the military in 1948. Many people have called the ALCAN Highway the "Road to Civil Rights."
sources:
http://www.pbs.org/wgbh/americanexperience/features/biography/alaska-men/
https://www.adn.com/culture/2016/05/20/giving-the-black-soldiers-who-built-the-alaska-highway-their-due/
video: Youtube