Sergeant William Harvey Carney was the first African American to be awarded the Congressional Medal of Honor.  He was born a slave in Norfolk, Virginia, but escaped to Massachusetts like his father through the Underground Railroad. His family later followed through the Underground Railroad as well. The free and reunited family settled in New Bedford in the second half of the 1850s. Young William learned to read and write, and by age 15 he was interested in becoming a minister. But, later gave up his pursuit of the ministry to join the Army
Carney joined the 54th Massachusetts Volunteer Infantry in March 1863 as a Sergeant. He took part in the July 18, 1863, assault on Fort Wagner in Charleston, South Carolina. (The attack on Fort Wagner is depicted in the film Glory.) It was in this attack that Carney's actions ultimately earned him the Medal of Honor. When the color guard was fatally wounded, Carney retrieved the American flag from his comrade and marched forward.  Although Carney earned the award, he was not honored until 37 years after his act of bravery. Carney was quoted saying "Boys, I only did my duty; the old flag never touched the ground!"   While other African-Americans had since been granted the award, Carney's is the earliest action for which the Medal of Honor was awarded to an African-American.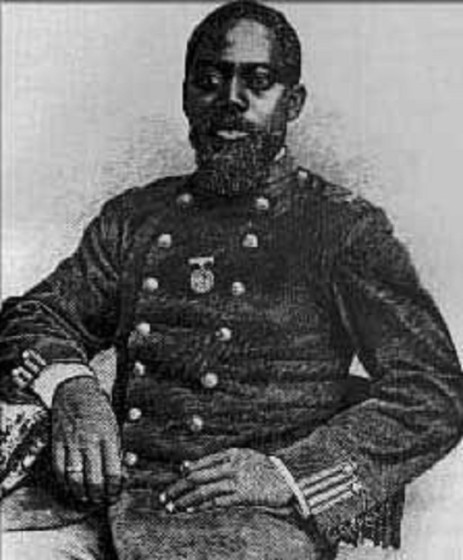 After Carney's discharge (due to a medical injury) from the army, he returned to New Bedford, Massachusetts, and took a job maintaining the city's streetlights. He later married Susannah Williams, and the couple had a daughter, Clara Heronia. Carney spent a few years in California, then returned again in 1869 and began working for the post office as one of the city's four mail carriers. He became a public speaker, and often addressed veterans' groups and other civic organizations. Carney died in New Bedford on December 9, 1908, due to complications from an elevator accident.
source:
http://www.historynet.com/william-h-carney-54th-massachusetts-soldier-and-first-black-us-medal-of-honor-recipient.htm